Alyssa Green: A superstar in the making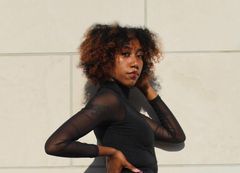 True talent hit Murphy Auditorium's stage when Alyssa Green stunned the crowd with performances as "the Witch" in the Iona Players production of "Into the Woods." At just 17 years old, Green has gained recognition as a vocal and theatrical powerhouse.  
Green is a freshman and one of the Iona Players' newest members. Originally from Bridgeport, Connecticut, Green grew up in a musically oriented family.  
"[Music] has always been a part of my life because my mom is an opera singer, and my grandma was an opera singer." Green said. "Everyone in my family does music. My uncles are gospel singers, and my dad plays a couple of instruments."   
On Sept. 14, the cast of "Into the Woods" was unveiled in a series of posts on the Iona Players' official Instagram account. Green was set to play the crucial role of "the Witch." "Into the Woods" was Green's musical theatre debut. Before being casted in "Into the Woods," Green preformed in both vocal and instrumental ensembles, even playing first violin for the Brooklyn Symphony Orchestra. 
Green has been playing the violin since she was 4 years old and only took part in instrumental ensembles up until her senior year at Hamden High School. Green came to Iona University to study Speech Pathology, Arts Leadership and music, as well as continue her journey as a performer.    
 "[Iona University] was and wasn't my top choice. It was in my top three" Green said. "My top school was Berklee, but it is too far, so my mom said, 'do two years at Iona and then you can transfer if you want.'" 
Green has hopes of someday going mainstream, traveling the country and creating all types of music; but wouldn't mind the Broadway limelight. Some of her favorite artists include Alicia Keys, Jennifer Hudson and Adele.  
"I want to go mainstream; that's my biggest goal because I want to do my own music and perform, but I was thinking about Broadway and things like that because I get opportunities," Green said. "I would never say a genre, I would just do whatever comes to me in that moment." 
Despite its effortless appearance, Green described rehearsal for "Into the Woods" as "hectic to say the least." 
"We practiced for five weeks, the first week was mostly music and learning the group songs," Green said. "The second week was when we started doing the show scene by scene. The third week we had to memorize all of Act I and all the music, and that was definitely hard. Fourth week, we had learned all of Act II and had to memorize all of that by the fifth week, because the fifth week is tech week." 
Rehearsal wasn't the only challenging aspect of "Into the Woods." Green said that the audition process for the production was a very selective one; "there were so many people that auditioned, it was like 40 people and only like ten of us were cast." 
Outside of the Iona Players, Green is also involved in the Iona singers, vocal and instrumental ensembles, ASL and BSU Dance Experience. Green said that the BSU is like "a sister and brotherhood." 
Senior Christele Romulus is the dance captain of the Black Student Union Dance Experience. Romulus says Green is "very much dedicated and shows her passion. She is willing to keep going even if her schedule is hectic."  
Romulus said that she sees a little bit of herself in Green. Green is an active student on campus, similar to Romulus during her freshman year of college. Romulus thought that Green's performance in "Into the Woods" was amazing, saying "it literally gave me chills." 
Kelly Breyer was hired as Iona University's first director of Fine and Preforming Arts. Part of her job is recruiting students and overseeing the department's activities.  
"I joke that 50% of my life, especially once we hit January, is focusing on next year's freshman class, while then 50 % is focused on everything else that is happening," Breyer said. "If there was 50% more to give it would be for all of on-campus activities." 
While working on "Into the Words," Breyer and Green developed a mentee-mentor relationship; Green says that Breyer is like her second mother. Both speak about each other with great gratitude.  
"Her performance was really special to watch," Breyer said. "She came into every single rehearsal really trying to do something different… Alyssa really embraced her role as the witch, which I thought that was really refreshing."  
Green was one of Breyer's recruits for this year. They first met early this year during freshman orientation and have grown closer ever since.  
"I have known her for a little bit. She was of my recruits that came in last year and the second I met her I was like 'there is something special," Breyer said.  
There is certainly something special about Green. Those who watched her performance in "Into the Woods," have witnessed a superstar in the making.