Iona water polo coach Brian Kelly expresses the importance of chemistry and communication during games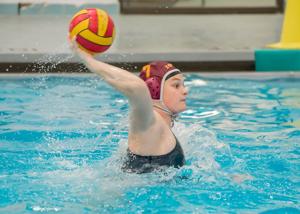 The Iona College women's water polo team have won four of its last six games after a rough start to the season. The Arizona State Tournament, which went from Feb. 2-3, was the perfect opportunity to get the team familiar with each other's playstyle and focus on their chemistry. Head Coach Brian Kelly believes the tournament helped get the best out of the Gaels.
"We gained a lot of experience," Kelly said. "We played well in spots and proved that we have a lot of talent."
The Gaels played against some of the top teams in the country at the tournament and were able to familiarize themselves with their playstyle. It was the first time the Gaels were able to test their strategies against other teams.
"We've got a lot of new faces on this team," Kelly said. "This whole season is going to be about learning how to play with each other as a team and against our opponent."
Communication is one of the key aspects for a team to be successful and Kelly stresses the amount of talking the team needs to do during the match. Early in the season, communication was down, which led to misunderstandings.
"It's a team sport," Kelly said. "In any team sport there has to be a high level of communication at all times and when you have a bunch of new players playing together for the first time, it's paramount that you talk more than you should."
Iona have to play all of its games on the road this season, making it a bit more difficult to get practice time and improving the team's play. However, the time Iona spends together during road trips has helped develop strong chemistry.
The Gaels' chemistry was key during their four-game win streak and will continue to be valuable throughout the season.
"They want to do things that are going to build on their team chemistry," Kelly said. "They want to win together, so I'm excited about that."
Kelly hopes to improve communication throughout the season in order to strengthen Iona's playstyle.