Aussie athlete thrives through time zone troubles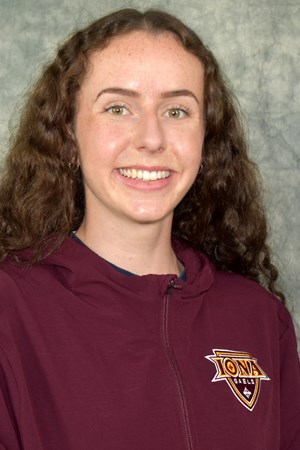 In the midst of these unforeseen circumstances, the switch from traditional college programs to online courses can be daunting for any student. However, when that student is also an international athlete, the challenge gets much more difficult.
Gabrielle Toth, a freshman on the Iona women's cross-country team, appears to bear the brunt of such a challenge. This is her first year attending college, yet her experience is far from that of most college freshmen. Home for the distance runner is in Perth, Australia—tens of thousands of miles away from campus. As if that is not challenging enough, there is also a twelve-hour time difference to overcome.
Yet, Toth seems to be accepting the change without hesitation. When most of Iona College's courses meet at scheduled hours, how could she possibly deal with such a time difference? For the freshman, she says communication is the key.
"Night classes have become morning, morning classes are later at night and classes in the afternoon are now in the middle of the night," Toth said in an email interview. "Communication with my professors of my individual circumstance has been very important in figuring out how work around the time difference and ensure I can keep up in class."
She credits her professors for helping to facilitate the adjustment, as accommodations have been made so that she does not have to attend classes that now occur at 2 a.m. and 3:30 a.m. Instead, Toth manages the work asynchronously, meaning that she can complete it at a much more reasonable time.
"The information provided in all of my classes was very clear in outlining the plan moving forward and what the rest of the semester would look like, which was helpful to have some sense of direction," Toth said.
Toth credits this to be the hardest part of the transition because she needed to come up with strategies that worked best for her academics. The time-zone appears to be the biggest downside to the situation in having to miss out on some live lectures. Luckily, Toth said that she is still able to attend her other classes, despite some big schedule changes.
With classes being moved entirely online, the classroom for many college students has now become the video conference application Zoom. The substitution, now being commonly referred to as "Zoom University," has posed some changes to learning and college life overall.
"The biggest difference between 'Zoom University' and studying at Iona is definitely the atmosphere when in a classroom and working from home," Toth said. "Another big difference is the interactions with other students and the professor, mainly since the primary form of communication is now emails."
As a result, the atmosphere requires a new mentality. When home and the classroom are one in the same, it can be challenging to be productive and focus on academics. However, the cross-country runner handles the task well.
"Having a routine is something I thrive on and has helped keep me productive," Toth said. "I find having a structured day keeps me motivated to finish things in a reasonable amount of time and not put things off."
In addition, the switch to online classes has impacted the athletic season as well. With the cancellation of spring sports, Toth says running has completely changed.
"Even though running is often regarded as an individual sport, it's a big change to go from running every day with a group of people to getting everything done on your own," Toth said. "Workouts are tougher when you've got no one to chase ahead or pushing you from behind, and longer runs get very lonely without other people to chat with or keep you company."
Despite all of this, Toth is looking ahead with an upbeat outlook.
"This impact is only temporary and has a positive side to it, such as extra time to recover and build up fitness for when we're back competing," Toth said.
While things may be challenging for now, next year poses a whole new academic and athletic season that welcomes a fresh start and a whole new experience.