Dr. Cosby re ects on life, career, Black History Month
Dr. Nadine Cosby
Department: Media and Strategic Communications
Where did you grow up? How was your family situation?
"I was actually born in Jamaica. My parents moved here when I was very young – I was about five years old. And then I spent about the next five to eight years spending the summer in Jamaica with my grandmother. So in the time that we moved here, we moved to the Bronx, so I grew up in the Bronx and in Jamaica. I've been pretty much living in New York my whole life. I went to school in Pennsylvania at Lincoln University. And then I came back to New York to go to Lehman College. So I'm a proud product of the CUNY system. But most of my family is either still in Jamaica, here in New York or Florida."
So you mentioned going to Lincoln University in PA, was that a predominantly white institution (PWI)?
"No, Lincoln University is a historically black college, and it's one of the first. That was a conscious decision that I made. I grew up going to Catholic school and fortunately, because of where we were living in the Bronx, it was very diverse. And then for high school I attended Bronx Science – not as diverse – and during my four years in high school, it was really the first time that I was being confronted with bias and racial issues. I didn't experience that in elementary school – the student body was diverse, and the teachers were diverse. But going through eighth grade, I thought that was what the world was going to be like, but then I hit a brick wall in high school. So it was very early on in high school that I knew that I wanted to go to an HBCU, so I deliberately applied primarily to HBCUs, and when the time came, Lincoln was a great option for me and it was only three hours away so it was the closest HBCU that I got into. I was there for two years and the experience for me was just positive, but a couple of things made me come back and finish up at CUNY. One was that I probably had too much fun, but primarily, at the time I was attending Lincoln, they didn't have a fully developed communication program so it required that you go to Temple University for a year to two years to take all of your major courses. That was just quite a difference, because Temple University was a significantly larger campus and the tuition was quite an increase from Lincoln, so my parents kind of felt like "well, if you wanted to go to this HBCU but they're requiring you to go to this PWI anyway, you might as well come home and go to a CUNY anyway because the tuition is significantly cheaper."  So I came and went to Lehman and their program was phenomenal, and that's where I developed my passion for behind the scenes and production work."
Where did the desire for higher education come from?
"I will say that the desire for me actually came a little bit later in life, but it wasn't a choice initially. Higher education is something, I think in most immigrant families, that is the most important and the most critical thing in terms of the parents' perspective. My earliest memories have something to do with my parents talking about the importance of education and going as far as I could with my education. As you get older you start to see that, for one, it's like what excuse do I have if they literally could pack up what they had and their children and come to a foreign country with nothing and then create a life for their family, a comfortable life. I had absolutely no excuse. As I got older, I started to realize that education would be the vehicle to an easier life, so I would say it was in college that I started to develop a passion for education. When I got to college and realized that this is when you start to focus on what you're really interested in, rather than what you're forced to do, and the world just opened up for me at that point."
What is Black History Month to you?
"When I think about my experience with Black History Month growing up it was like, this is the month where we're going to talk about Martin Luther King and Malcolm X and really just a handful of other notable black people that had some place in history. Looking back at that from where I am in life, I feel like Black History Month could be so much more and it's almost sort of this passive recognition that black people are inherently rooted in the history of this country but aren't typically presented or represented in discussions of American history. I have mixed feelings – there does deserve to be a recognition of black history and, in having Black History Month, it's a celebration so it's exciting and a positive thing. What's frustrating for me is that, in a lot of systems, and even an educational system like higher education, that recognition of the involvement of blacks in history is only delegated to Black History Month and is never mentioned outside of February. Overall it is a very positive thing because it forced a conversation and it forced recognition, and unfortunately we're still a society that needs to be forced in recognizing the significant influence of blacks in this society."
About the Writer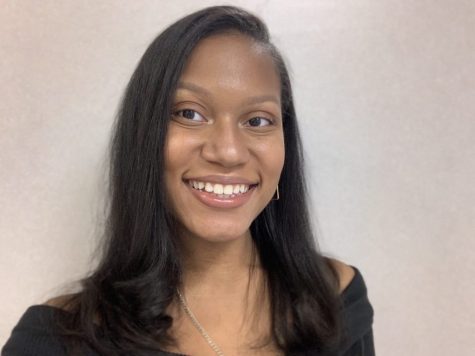 Aliyah Rodriguez, Features & Lifestyle Editor
Contact email: [email protected]

Hey! I'm Aliyah Rodriguez. I'm in the class of 2021 and a double major in english and MSC with a concentration...