Celebrating Black History Month at Iona College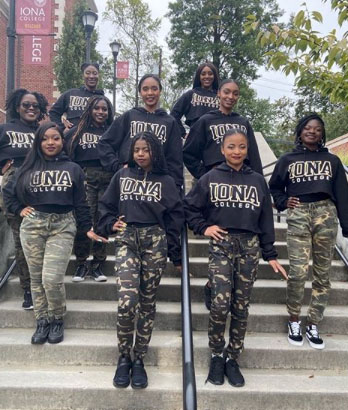 Eileen Exama and Julia Fabrizio, Staff Writer and Features Editor
February 27, 2020
Since the late 1970s, February has been known as Black History Month, an annual celebration of the significance of black history in the United States. During this holiday, we honor the many black role models who have changed the landscape in which black people are perceived, from black civil rights activists to artists.
Here at Iona, black culture is consistently celebrated in clubs and organizations that discuss how black people have evolved the country. Black Student Union, for example, is an organization that creates a community for minority students.
FreshmanChristele Romulus explained how BSU brings students together through various activities.
"Discussing what being black is and watching movies that [are] on the topic of Black History Month," Romulus said. "And […] performing on the BSU dance team to celebrate this month. Overall, enjoying the fact that I am black and proud."
The idea behind Black History Month goes beyond what you learn in textbooks. It's about understanding the full basis of what being black is and the long history of rejection and pain based on the color of your skin. From having no identity to gaining the same human rights as any other person in the country, black people have overcome much discrimination throughout history.
Educating yourself on and celebrating black history can be a year-round endeavor.
"Respectfully ask questions if you have them," freshman Jahari Bethea said. "Try to attend meetings from groups that discuss the topic rather than having a bias."
Many classes offered at Iona discuss diversity by studying literature and history that involves the progression of African Americans nationally and internationally.
"Classes like Media and Strategic Communications' 'Race and Gender in the Media' or the English Department's 'Images of Women in Modern American Literature' not only force a critical analysis of things taken for granted, but examine it with empathy," senior Katherine Conner said. "They don't just point at societal injustices but provide a very tangible human component to connect to."
It is important to educate yourself on the discrimination and suffering African Americans have faced.
"Black culture is often overlooked for the actual achievements to the black community itself," Public Relations chair of BSU and senior Kenya DuBose said. "Education on the black experience and culture is something that can only be done in communion with those who understand the significance and importance of the achievements. All year round, everyone should try to find new facts about the achievements from blacks that have been incorporated in our daily life."
DuBose continues to express the importance of Black History month.
"[…] it's our duty to honor the legends before us and to create new legends now," DuBose said.
Black History Month may be coming to an end, but that doesn't mean we should stop recognizing and learning about the impact many African Americans have made to end discrimination in our country. Black culture can be celebrated all year long.