New addition to North Ave restaurants: Waffle Cafe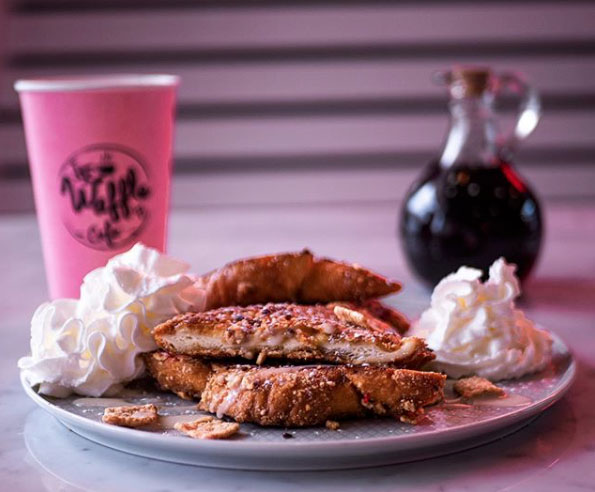 Last semester you may have noticed, perhaps as you made the trek to CVS, the corner storefront of 618 North Avenue ever so gradually transforming. First, came the whitewashed brick. Then, the cotton-candy pink London telephone box appeared in the store front's window, and the spray-painted multi-colored hearts became visible on the walls inside. On Jan. 17, the nail-biting suspense was finally over as New Rochelle welcomed its very own Instagram-worthy brunch paradise, Waffle Café.
The brainchild of 21-year-old owner and first-generation Bronx native Arlind Cosaj, Waffle Café is the artsy, NYC chic café within walking distance we've all been waiting for. The inside makes you feel like you have been transported to a classy version of Alice's Wonderland, with Edison bulbs hanging from the flower carpeted ceiling and a neon sign reading "It was all a dream" hanging on the left as you enter. Cosaj, who attended Iona for two years of his undergraduate career, said that Waffle Café has been a project a year in the making and began with a vision he and his friends had.
"We just wanted people to come in here and, you know, be happy, not spend a lot of money, not have to worry about tipping, just have a good time, listen to nice music," Cosaj said.
The décor of Waffle Café is truly a superb blend of vintage and modern, emphasized in its polished white marble tables upheld by antique iron legs.
Speaking of superb blends, Waffle Café boasts a specular coffee menu, featuring classic favorites—cappuccinos, macchiatos and etc.—and delectable featured brews, like their Nutella latté.The handcrafted beverages offer an excellent change of pace from your daily coffee chain grab. The café also offers a variety of mouthwatering food options, including their crispy and sweet chicken and waffles—with the waffle offerings ranging from original to red velvet—and creamy avocado egg wrap. Cosaj said that the café's menu and the concept of the restaurant as a whole went through a lot of iterations over the year that the restaurant was in development.
"First it was just going to be a chicken and waffles spot, it was just me and my friends just talking about it, and we thought it would be a cool idea," Cosajsaid. "And then, throughout the whole year making it… it was gonna be three, four different names, it was gonna look different, we were gonna have coffee, then we weren't gonna have coffee, so it just happened throughout the whole year."
Though it hasn't been open for long, Waffle Café is already gaining buzz among Iona students.
"Waffle Café has a young and hip ambiance," graduate student Samantha Ortiz said. "I love how polite the staff is, their wide selection of breakfast food and how small and intimate the place is."
Waffle Café is open Monday to Saturday 7 a.m. to 11 p.m. and Sunday 7 a.m. to 1 p.m.
About the Writer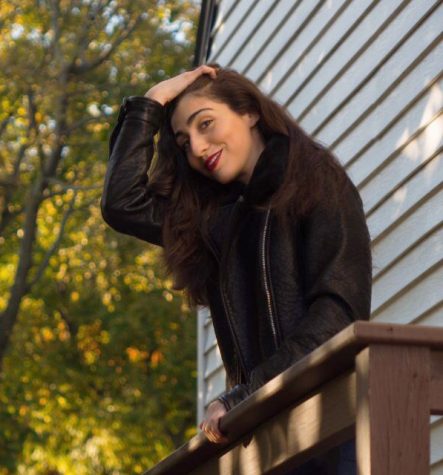 Victoria Sanseverino, Copy Editor