Students enjoy night of Greek pottery painting, ASL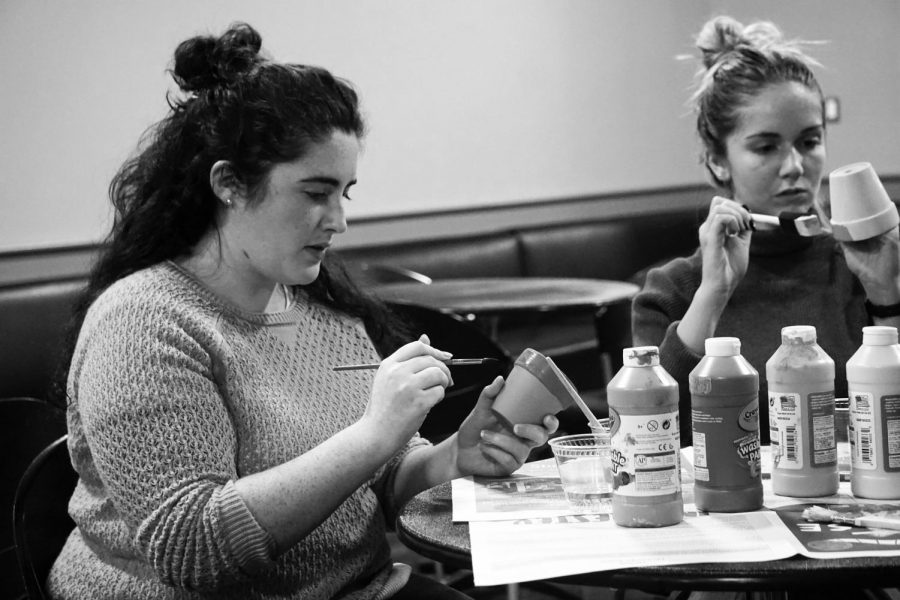 Katie Malling, Staff Writer
October 31, 2019
The Greek Culture Club collaborated with the American Sign Language Club to host its annual Pottery Night in the LaPenta EndZone on Oct. 21.
Members of the Iona community attended to socialize and take part in painting small terracotta pots with their own unique, colorful designs. During the evening, members of both clubs and other students were able to share and experience new cultures.
Pottery Night was inspired by Greek culture, according to Chloe Gaska, senior and president of the Greek Culture Club.
"It's just really nice to maintain the tradition because in Greece everything is painted a different color," Gaska said. "Everything is very beautiful and artistic so it's just really nice to keep that alive."
When asked about her thoughts on if Pottery Night served as a way to de-stress, Gaska agreed and related it to the ancient Greeks' culture.
"Greeks tend to be very relaxed people, and they are very lackadaisical so it's nice to immerse in the culture a little bit without having it feel like you have to be Greek," Gaska said.
Nicole Genser, junior and president of the American Sign Language Club, explained how the ASL Club's original idea of having a painting-themed event turned into a collaboration with the Greek Culture Club as a way to introduce new members to ASL and to Greek culture. Existing members of the American Sign Language Club wanted to spread awareness on diversity and different cultures.
"A couple of our club members are here and they got to experience painting and some of their club members in the same way got to experience learning a little bit of ASL," Genser said. "Even though it's American Sign Language and this is Greek culture, it's still cultural appreciation exposing each other to different things. We're both organizations in SLAM…and they really encourage collaboration between all the clubs just to work towards more inclusion overall and awareness of diversity and awareness of different cultures."
Senior Stephanie Di Giovanna shared that her favorite part of the night was the opportunity to de-stress after a long week. Overall, Di Giovanna really enjoyed the event.
"Honestly, the whole thing was my favorite part," Di Giovanna said. "Only because I haven't painted in actual ages and to be able to do it, especially because my past week was stressful beyond belief…I needed something like this."
Junior Megan Fisher shared her approval of the night because it was a community bonding experience.
"I liked the community aspect of how it brought us all together with art," Fisher said.