Fun, inexpensive activities to do in New Rochelle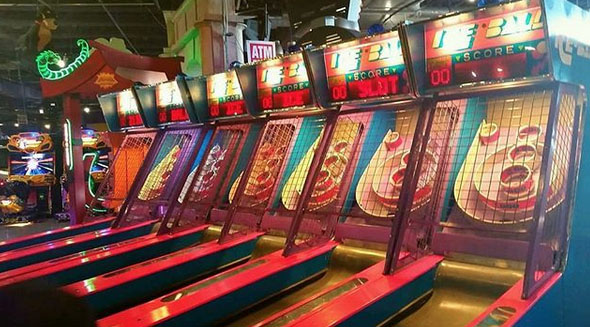 Iona College may be a highlight in the New Rochelle area but it is far from being the only notable location within the city. If you and your friends are looking for places to hang out together, New Rochelle has plenty of great locations to choose from.
One of the most popular areas among Iona students is New Roc City and it is easy to see why. New Roc City is less than a 10-minute drive from campus, and the Gael Express shuttle will drop you off for free. From the variety of retailers and restaurants to the numerous entertainment facilities, New Roc has several attractions.
Students can take advantage of the movie theater with discounted Regal Movie Theater tickets sold on the second floor of the LaPenta Student Union in the Office of Student Development. Many students also enjoy the SkyZone trampoline park and FunFuzion, an indoor amusement park offering bowling, billiards, go-karting and mini-golfing, plus games and rides.
There are many options in New Roc City, so it can be difficult to choose just one thing to do. If you are looking for cheaper options, freshman Gabrielle Rodriguez recommends the bowling alley.
"It's not terribly expensive, and The FunFuzion Arcade isn't pricey either," Rodriguez said.
There are plenty of options for restaurants in New Roc if you are looking for a bite to eat. There is great mix of unique local spots like Roc-N-Ramen and Korean BBQ Grill, as well as common fast food chains, like Burger King and Taco Bell.
Applebee's Grill and Bar in New Roc City is conveniently included in the Iona College Meal Plan, so you and your friends can enjoy a dinner away from campus and pay with your Iona ID.
New Rochelle has plenty of places to visit outside of New Roc City as well. One standout location has to be The Rock Club, a rock-climbing center that is open to both professional and first-time climbers. If you are a fan of escape rooms or have never tried one before, Hour To Exit is a great way to spend time with friends. As the name implies, you will only have one hour to find the exit to a locked room by working together with your group to solve intricate puzzles. Hour To Exit has two different rooms to choose from with two more currently in development, so it is definitely a spot that you will want to keep coming back to for new experiences that is just over a mile away from the campus.
If you are looking for a more relaxed setting to chill out, Glen Island Park is the perfect choice. Whether you want to take a stroll alongside the water or prefer to play a game of volleyball with friends, visiting Glen Island is a great way to spend some time outdoors.
"I like tor ide my bike around and go to the park," freshman Kazuki Neo says. "I live by Glen Island so I can just walk there from my apartment, and it's not far from Iona either."
Whether you are scheduling a get together with friends or looking for a way to spend a free weekend, New Rochelle has plenty of great places to visit.