Team chemistry, mentorship impacts Gabrielle Toth
Team chemistry and culture have changed the way freshman Gabrielle Toth participates in cross-country here at Iona College. Cross-country is very different in Australia, where Toth was born and raised.
Everyone on the team has gone through the same, if not similar, experience going up through the ranks on the team. That shared experience of adjustment has helped Toth relate to her teammates and has built an environment she hasn't had before, she says.
Toth began running when she was 12 years old in high school, representing her team in a couple of competitions. She joined a running club right before she turned 13, which helped hone her skills for running cross-country.
"In Australia, you do a couple competitions for your high school, but formal training was at a club," Toth said.
The balance of school and athletics in Australia is not as prioritized in the same way as it is in the United States. Coming to the U.S., Toth's priority was to get the most from both her athletic and  academic experience, she says. The culture of college sports in the U.S. is much more helpful to have, where in Australia the two lifestyles are separate.
Individualism was a major aspect of the running clubs back in Australia for Toth. Most runners in the club were from different schools, which made it harder to bond, Toth explained.
"You didn't score points for a team or anything," Toth said. "It was just your result."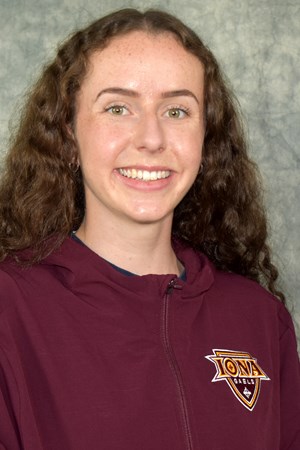 Toth gains support from her upperclassmen teammates who help her work on her form. That kind of mentorship was not a part of the culture back in Australia.
"[Them] being able to help me like, even if it's just finding my way around, has been a really good part of it," Toth said.
Toth has adjusted to the U.S. culture quite well so far, although not all things have been easy to adjust to. For example, the humidity here in New Rochelle has been her least favorite part, but Toth says that coming to the U.S. was definitely for the better.
"I didn't want to stay in Australia because there was nothing like the National Collegiate Athletic Association back home," Toth said. "That was mainly why I came to America as a whole."
Friendly coaches, small class size and an athletic program with a strong reputation are the main reasons why Toth picked Iona College over other schools, she said.
"I definitely believe it can develop into something really good," Toth said. "There's a lot of potential [here] and I wanted to be part of that."