Millie Bobby Brown releases minimalist beauty line
Millie Bobby Brown is taking a stab at the beauty game with her new brand Florence by Mills. The beauty line is targeted towards Generation Z makeup consumers and is branded as clean and fun.
It seems like every star is starting a makeup brand nowadays. Best known for her starring role in Netflix's "Stranger Things," Brown recently launched her own line for minimalist teens who want to enhance their natural beauty. The name "Florence" is after Millie's great-grandmother, and the company has established that all products are vegan and cruelty-free. The products are also sulfate-free, which makes them unique in the makeup world. The brand includes a total of 15 products in both skincare and makeup, including moisturizers, lip oils, face masks, blush and brow gel. It is currently available for purchase on the brand's website and hits shelves at Ulta stores on Sept. 22 worldwide.
These products are ideal for a college student who is on a budget, as most products will range from $10 to $34. While it may not be something you use for a night out, it is perfect for everyday makeup looks and maintaining your skincare routine. Brown's most eye-catching products are the Swimming Under the Eye Gel Pads, which are shaped like cute, lavender whales, and the Mind Glowing Peel Off Mask, which is an iridescent purple color.
Brown has worked hard on her product line and is all too happy to celebrate its success online. Social media has played a big part in ramping up the excitement and interest of these products. The launch is the latest in a string of exotic projects for Brown, who has recently become a social media icon. The 15-year-old's social media savviness has transformed the products' branding, which has swiftly swept the market. It's cute and catchy names are evocative of  Japan's culture of cuteness called Kawaii, playing up the focus that this makeup line was developed by a young girl about the same age as the consumer, while its lavender branding maintains the clean, simplistic side. This type of marketing helps young teens remember what they are buying and is a clever way of enforcing the products' popularity. The company's online presence is its biggest strength, with the Instagram account already acquiring 663K followers as of the release of this article.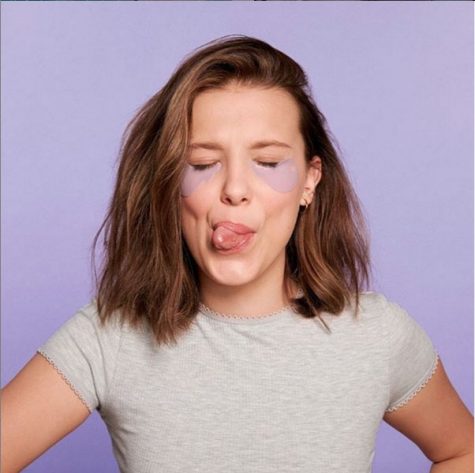 It's clear that this is a collection of clean and affordable beauty accessories for young skin that's made with genuine care. There are many occasions where you'd like to look your best without being flashy. You may feel uncomfortable going completely without makeup, but heavy makeup is just too much for your everyday look. This is something society would pinpoint as the natural look, which is very popular today with young women. It is reminiscent of the late '60s and '70s, where women worshipped the natural look. They wanted their looks to be simple and effortless, although it took a lot more effort than you'd think. The aspects of being vegan, cruelty-free and sulfate-free, also connect to this clean and natural appeal.
Brown has found immense success in her short career, so it's doubtful that Florencewon't do the same. The brand's simplicity makes it easily accessible for all, whether they are preteens just being introduced to make up, or women in their 20s who like to keep it natural. Not to mention it is a great gift option, too!