How to decorate your dorm on a budget this semester
The semester is in full swing, and soon students will be caught up in papers, homework and extracurricular activities. Residents have their clothes in drawers, books on the shelf and mugs in the cabinet, but with the craziness of move-in, the walls may be pretty bare. Decorating your dorm is not only a nice way to make it more comfortable, but can also make the space feel like your own. Here are some ideas that won't break the bank, or chip, the paint!
1) Light it up!
It may seem like the obvious dorm choice, but string lights can go a long way. Waterfall lights provide a cheap and easy way to fill a whole wall while providing a nice study atmosphere. A simple string light can also be used to hang photos.
"Get wire lights so you can customize the shape and size of your lights to fit your wall," suggests sophomore Mackenzie Byrne.
2) Putting up postcards
While you can always use postcards you've been sent by friends and family, you can also buy postcards to stand in for art prints! Websites like Redbubble have thousands of artists that make their work available on hundreds of products. Postcards can be found for less than $3, allowing you to pick a variety of gorgeous art pieces and panel them. This can take up a large section of wall space for less than $20. Alternatively, buy a pack of postcards from Amazon that follow a theme. Mix and match until you're happy!
3) Covering the canvas
If you want to go the full DIY route, junior Jessica Sanseverino recommends painting.
"My favorite DIY decoration that I've done is paint canvases with my roommates!" Sanseverino said. "It's not only a good way to customize your room, but a great way to hang out with your roommates."
This is a great project if you're living with a new group, and it's definitely budget friendly. You can find 12 canvases for under $10 on Amazon, and paints are just a few dollars more. These particularly make a nice addition to the door to each room or to the common room.
4) Pick and print
Between Instagram and Snapchat, it's likely you have dozens of fantastic photos collecting dust in your camera roll. Whether you want to go the family and friends or stunning sunsets route, consider printing some of your best shots. CVS will print your photos for as little as 14 cents, and sites like Shutterfly often have dozens of free offers and deals. You can either panel and group the photos in a collage with poster tack, or pick up some string and clothes pins to hang them in a line. Hanging photos is quick and easy and immediately makes your space feel more personal. Not to mention it might alleviate some homesickness to have familiar faces around.
5) Put a pin in it
Who says décor can't be functional? Cork board panels can be useful for organization but still show off your items in a cute way. Many students hang jewelry from pins in cork boards. Organization like this can prevent knotted necklaces and missing earring backs while also displaying what you have. If something is in sight, you're more likely to use or wear it!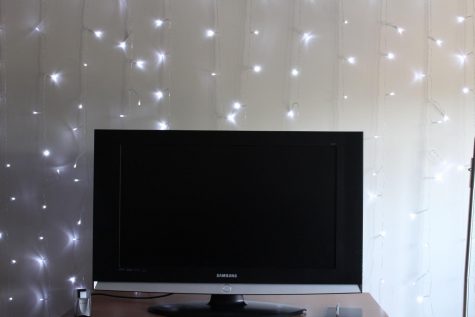 6) Group it
Part of a calm environment is lack of clutter. For the kitchen, consider getting some cheap cups or vases to hold things like spatulas and cooking utensils. Mason jars are easy to paint and are a nice way to organize everything from silverware to pens and office supplies. Along the same lines, consider purchasing some cloth bins for things like chargers and wires or toiletries. These are great for organizing bigger items, and having everything accessible and organized, while not necessarily visible.
Try and plan time to decorate! Doing all of these things doesn't take a ton of time, but it is often not a priority. Make sure you plan time in the early weeks, so it actually gets done, and you're more comfortable in your space throughout the semester!