"The Challenge" pits the USA against UK rivals
This summer, American pop culture experienced a British invasion. "Bohemian Rhapsody," "Rocketman" and Prince Archie dominated the cultural conversation. As "The Challenge" returns for season 34, the reality juggernaut aims to prove that the United States can still hold its own against the United Kingdom. "The Challenge: War of the Worlds 2" premiered Wednesday, Aug. 28 on MTV.
Last season, the original "War of the Worlds" brought together competitors from across the globe. The British challengers, however, bulldozed their way through the competition with the strength and loyalty of their British alliance. By defying the expectations of their American counterparts, the Brits set the scene for an epic battle between the countries.
The new season features the return of the United States'sixteen strongest, most popular "The Challenge" contestants competing against sixteen eager British reality stars. Returning favorites include Johnny "Bananas" Devenanzio, Laurel Stucky and Wes Bergmann for Team USA. Georgia Harrison, Stephen Bear and Theo Campbell return for Team U.K.
The show's first twist of the season includes four contestants, Turbai "Turbo" Camkiran, Christ "C.T." Tamburello, Natalie "Ninja" Duran and Dee Nguyen, returning to the show as reinforcements. Both teams will have the chance to draft the reinforcements, but they will have to win the first challenge to get first pick.
The first challenge forced contestants to obtain twenty-eight flags and stop the other team from getting theirs by any means necessary. It was an epic battle of strength, speed, and wits. The winning team only achieves victory through a smart, last-minute tactic that will make your mouth drop.
In "War of the Worlds: 2" the losing team will nominate one member for elimination while the rival team will nominate the second. The two unlucky challengers will head to the Proving Grounds, this seasons elimination arena, to compete in a winner-takes-all challenge where the loser will be instantly eliminated. In a new twist, the winning challenger will have the chance to commit mutiny.
The season premiere was awesome. It provides everything fans love about "The Challenge": Physically wondrous challenges, smart strategy,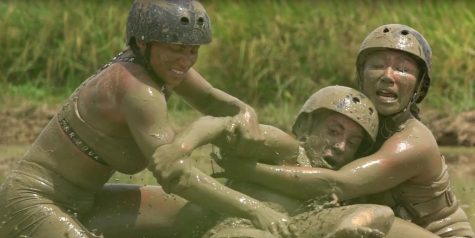 and epic fights. "The Challenge" contains the challenging spirit of "American Ninja Warrior" and "Survivor" with the drama and strategy of "Big Brother." It continues to be the reality junkie's hidden treasure.
If you are not watching, get into "The Challenge" this season. The preview for the upcoming season teases wild challenges and lots of fun drama. If the big blow up in the season premiere proves anything, it's that "The Challenge" is good on its word when it comes to drama.
"The Challenge" airs Wednesdays at 9:00 p.m. on MTV.