Hair trends to look out for this summer season
Edona Maracaj, Staff Writer
May 4, 2019
Classes aren't the only thing ending as summer approaches – the cold weather and sweater trends are coming to a close too. With summer slowly approaching, there are many new trends and tricks for keeping the heat off your head and shoulders, beyond just the clothing you choose to wear. Hairstyles can also help you handle the heat.
Here are a few options that you could do to keep the heat off your neck.
Try an up-do.
There are many different up-dos that could work for you depending on your personal taste. Many people prefer a messy bun, while others like a neatly wrapped bun using either a sock bun or a donut bun maker. But you can never fail with a classic ponytail!
"In the summer, I prefer short hair and up-dos because it's easier to maintain," sophomore Brianna Fornasari said. "Also, since my hair is curly it is important to keep it hydrated in the summer, so I do a lot of hair masks during that time."
Half-up hairstyles are also very popular. Many people simply leave their hair natural and just tie it up, or some like to get funky with two small buns.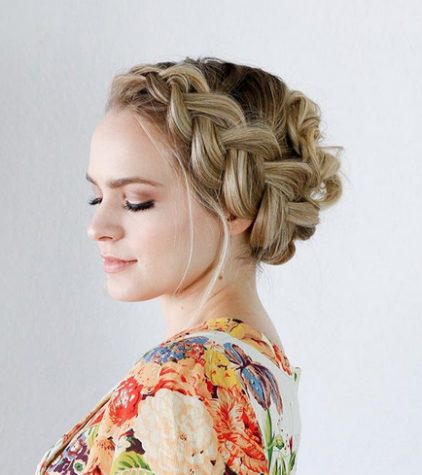 PHOTO FROM KAYLEYMELISSA INSTAGRAM
Go for braids.
Whatever hair length you have, braids are always a good answer when it comes to dealing with the hot summer days. There are many different types of braids you could try, including a fishtail, cornrows, Dutch braids, box braids, boxer braids or a regular braid. Various YouTubers have created videos that show how to create these braids on yourself or others.
You can still do many types of braids even if you have a shorter haircut. A simple Google or YouTube search will allow you to see the way simple or intricate braids can be created.
Have fun with headwraps.
Headwraps are also one of the best ways to keep the heat away from you. Not only do headwraps add a cute pop of color, but they also give your hair a layer of protection from the sun's rays. The best thing about headwraps is that there are so many different ways to style them ranging from easy to difficult, but they always look fabulous either way.
Get it chopped.
There are many pros and cons to chopping off your hair. If it's long, it might be nice and refreshing to have less hair weighing your head down. Another pro is the fact that it will be easier to style. Cutting off all your hair, however, also means that all the time you spent growing it out will have gone to waste, and you have to start the whole process of growing it out—if you choose—all over again. A good idea to not waste your hair growth could be to donate it!
One of the big trends that's been returning recently is the bob. Many people have started to cut it shorter in the back as well so to better frame their face. With these styles you could either straighten it or curl it to develop a more put-together look. Natural beachy waves are also very popular with this style, especially in the summer.
With school out, cutting your hair would be the perfect way to focus on improving the healthiness of your hair. Getting rid of the dead ends and laying off hot tools will only be beneficial, especially with the sun already heating your hair up.
"There's less work involved in styling," freshman Paola Hernandez said. "I typically keep my natural hairstyle during the summer because if my hair gets wet, my curls look great."
For those that have very short hair, regardless of gender, adding a hat to keep the sun out of your face is always an option.
"I tend to cut my hair shoulder-length as I have had very fine hair for as long as I can remember," sophomore Mikayla Ward said. "Cutting my hair shorter allows my hair to be less weighed down, which makes it look fuller."
Much like Hernandez, senior Laura Signorile also prefers it short in the summer.
"It's easy to style and out of the way!" Signorile said. "It's easy to put up, too!"
Men may also need some relief from the heat during the summer. Many men tend to go for the bun as a way of dealing with their hair if it's long. Those who already have short hair should consider a buzz cut if they feel it suits them, or a shorter trim.
Hairstyling isn't the only thing that people can look into for their summer look. Recently, the ombre look has started to gain popularity once again. However, dying your hair also means chemicals are taking a toll on it, so it's important to deep condition and add natural oils to it. You could maybe even try a semipermanent dye so you do not ruin your hair while still having a fun, summer look.
Drinking water is also especially useful for hair in the summer. The constant exposure to the sun can cause it to dry out. Because of this it's important to remember that using hot water when washing your hair is not the way to go. Instead, you should use cool water, and add leave-in conditioners or heat protectants.
The options are practically endless when it comes to how to style your hair this summer. Whether you're just styling it differently or going for a total changeup with a cut or color, you have a lot to choose from. Have fun with it this summer and try to stay cool!