Heritage Week's theme of service focuses on veterans
Iona College hosted Heritage Week from March 21 to April 4 with a theme focusing on a legacy of service with events that honored veterans.
Heritage Week kicked off with a discussion titled "Iona and Its Military" on March 21. The discussion was headed by Br. Joseph Morgan, a history professor and member of the Christian Brothers, who explained Iona' s military history.
The following day, a "Meals-to-Go" event took place. Volunteers assembled food packages and loaded them onto delivery trucks for food pantries to feed the homeless population in New Rochelle. Many students were happy to volunteer and enjoyed their experiences.
"Iona is all about mission," sophomoreSara LeStrange said. "I feel that the legacy of service incorporates how Iona is working together to feed people who really need to eat, and bringing that type of commitment into working with Iona's mission, and to really collide and make a beautiful thing to help and move the world."
On March 31, a Sunday mass was held to start off the new week filled with more Heritage Week events.
The week began with the unveiling of a portrait of Fr. Vincent Capodanno, a Navy chaplain who lost his life in Que Son Valley, Vietnam while offering medical and spiritual care to a wounded Marine. Captain George Phillips, USMC, gave the remarks at the reveal of the painting.
"He didn't sit inside his tent [to] wait for people to come to him, he was a priest that would spend his time with the troops," Phillips said. "And he was like a magnet, whenever he showed up, people would sit around him and want to talk to him."
Carl Procario-Foley, director of the Office of Mission and Ministry, spoke on the legacy of Heritage Week.
"This year and every year in Heritage Week, we celebrate the people and the core values which has inspired this college from its founding," Procario-Foley said.
April 2 featured events honoring the history of service. The first event, "Stories of Those Who Served: Past And Present," was a panel discussing challenges and opportunities after military service. The panelists were Cody Keifer '22, Joe Clifton from Campus Security and Lou Kangas from Facilities Management.
After the panel, Morgan gave another speech about Iona's military heritage.
The panel was then followed by "Hands Around Iona," an annual fundraiser that raises money to aid communities around the world.
The day was concluded with another panel, "HomeFront Battle: Transitioning to Civilian Life After Service." During the panel, veterans discussed their personal experiences of transitioning back to civilian life.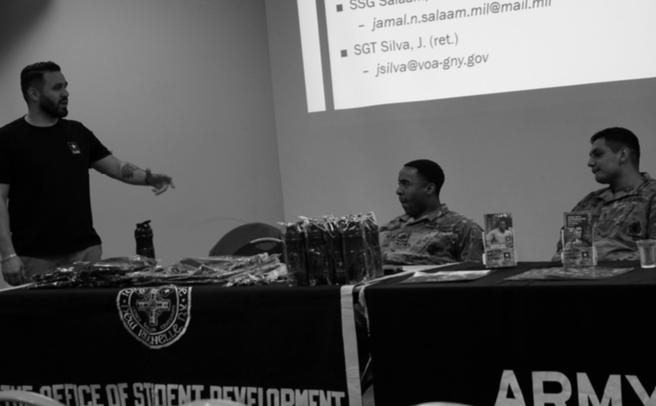 Heritage Week concluded on Thursday, April 4. The day began with a local service project showcase. During the showcase, people were given the opportunity to learn more about the local community service opportunities offered by the Office of Mission and Ministry.
This event was followed by a Veteran's Basket Blessing Ceremony. The ceremony was a drive sponsored by the Office of Mission and Ministry and the Student Government Association which collected "starter baskets" from the Iona community for homeless veterans who are served by the Department of Veterans Affairs and who are in the process of transitioning to apartments. The baskets contained essentials such as pillows, towels and detergent.
The final event was "Edmund Rice Beyond Borders: Promoting the Iona Legacy of Social Justice Throughout the World," where the Iona in Mission Ireland and India teams reflected on their mission experiences over the winter break.
"How we embrace our military, how we embrace our faith, and how we embrace service is very special at this college," President Dr. Joseph E. Nyre said. "I'm pleased that we approach our veterans with great stories and great heroes with such respect."