Iona seeks to embrace underdog mentality ahead of MAAC Tournament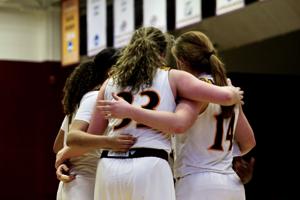 With only two weeks remaining until the Metro Atlantic Athletic Conference Tournament in Albany, the Iona College women's basketball teammates are keeping their heads up as they gain some momentum to close out the regular season.
"Coming in as a brand new team, you really didn't know what to expect," junior transfer Morgan Rachu said. "The team has great chemistry but there were always things we could fix here and there. We have also faced a lot of adversity but are slowly and surely rising above it."
The Gaels, who started their season quite poorly, seem to have finally found their game as conference play comes to a close.
Iona got its first conference win against the Monmouth University Hawks on Feb. 15, followed by another win against the Saint Peter's University Peacocks on Feb. 17.
Rachu, who has led the Maroon and Gold with 11.5 points per game, gives credit to junior captain Tori Lesko for helping her make a successful transition from junior college to Division I basketball.
"There's so much to say about Tori Lesko and the impact she has made in my life on the court," Rachu said. "I've never seen a more hard-working athlete that would do anything she could for the team she is leading. She truly inspires me each and every day to be my best and to always grind until you cannot grind anymore."
Lesko, who only played in six games last season due to a stress fracture in her foot, believes her team has overcome plenty of challenges they were presented with early on in the season.
"I think being a young team is challenging," Lesko said. "We only had five returning players and the rest were either transfers or incoming freshmen, so it has been difficult meshing together on the court. We have definitely started playing better as a unit the past several games."
As the Gaels aim to remain positive heading into the MAAC tournament, first- year players will look to learn what to expect in the tournament from returners.
"I think knowing the atmosphere and understanding that anything can happen, and anyone can win any game no matter what their record is or how conference play ended is important," Lesko said.  "It's a different feeling than a regular game. It all just really depends on who shows up."
Depending on the final standings of the regular season, the Gaels will be projected to either play the sixth or seventh seed in the first round of the tournament.
The Gaels are looking to stay confident and embrace the underdog mentality when the MAAC Tournament starts on March 7.
"I'm really just going to keep confidence and keep pushing my teammates and myself to be the best we can be," Rachu said. "We are the underdogs, but underdogs can rise above, especially when it is least expected."