From Chicago to New Rochelle, Tajuan Agee has found a home at Iona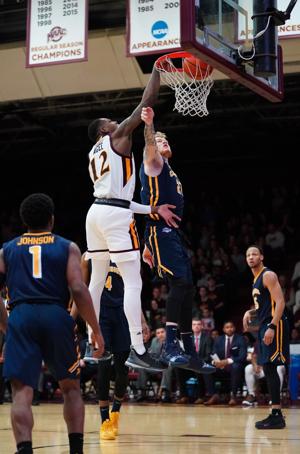 Growing up in Chicago, basketball was a way of life for Iona College men's basketball junior Tajuan Agee, from playing on the streets to watching Derrick Rose, Anthony Davis, Dwayne Wade and Jabari Parker shape the basketball culture.
"I think being from Chicago and playing in the environment, and how tough it is, I think that made me," Agee said. "I think it made me aggressive. I like being that dog. We take pride in that from Chicago, and I think it molded me to be more aggressive than the usual player."
Agee grew up in Chicago during the boom of basketball talent. As a freshman in high school, Agee played against Parker, a former second-overall pick and stand-out at Simeon High School. He also laced them up against current superstar Davis, and even worked out with former MVP Rose.
"Jabari was on a different level. I was like skinny, 6-foot-3, and he was just posting me up," Agee said. "I grew up around Anthony Davis. He knows who I am, and I know who he is, but we don't really talk like that."
The basketball scene in Chicago,  is a very close-knit community where everyone knows one another.
"Basketball is like the top thing in Chicago," Agee said. "It's like a family;  everybody knows everybody, basically."
Like many young kids, Agee grew up playing various sports such as football and baseball. Agee didn't play his first organized basketball game until eighth grade. Agee's size ended up becoming the deciding factor in determining that it was the sport he was going to continue to pursue.
"I didn't decide, my height decided," Agee said. "I played baseball, basketball [and], football up until sophomore year of high school., Tthen my uncle was like, 'it's time for you to choose.'"
Agee, who is now 6-foot-9, was nine inches shorter when he entered high school. He then grew three inches every summer over the next couple of years. Like Davis, this allowed Agee to develop his game and become well-rounded as a player.
"As a freshman in high school I was just shooting threes," Agee said. "Then I grew to 6-foot-3 as a sophomore and I started doing more ball-handling. Then I grew to 6-foot-6 as a junior, and that made me become more of a forward."
Agee displays all the facets of his game when he is on the court: Dribbling, shooting from the perimeter, and getting physical in the paint. When Agee was in Chicago, he learned how to expand his game by playing games in the alley.
"We would play in the alley growing up, and we [would] just play one-on-one," Agee said.
Agee averaged 20 points and 12 rebounds during his senior season at Hyde Park, which resulted in All-City and All-State honors. After high school, he attended Tyler Junior College from 2016 to -2018, where he was a member in some championship- run teams.
Iona wasn't the first choice on Agee's list when it came to transferring from Tyler. However, things fell through at another school, and Iona kept pursuing him. The experiences he had at Tyler Junior College taught him lessons that he has now brought to the Gaels.
"I learned that being cohesive, being a unit, and coming together as a team really helps," Agee said. "At the beginning of the year, we were getting to know each other. But now we are more like a brotherhood, and I think that's definitely going to help us."
The Gaels struggled early on this season. However, Iona has played well down the stretch, which has led the team to compete for the top spot in the Metro Atlantic Athletic Conference standings. Even with the early-season challenges, Agee said the message around the team has always been the same.
"That doesn't even matter, that's behind us and we took MAAC play as a different season," Agee said. "And the [tournament], we are going to take that as a different season and we just need to go 3-0 in the [tournament] and that's all that really matters to us."
As the games have been getting bigger, Agee has been getting more minutes on the court and putting up great numbers. Confidence has been the key, which Head Coach Tim Cluess helped instill in him.
"Coach Cluess likes to tell me not to get too high or too low, just stay even keeled and keep playing," Agee said. "He told me just go out there and play, and he gave me the confidence to go play."
Agee feels Iona is more locked in as a team than before and its confidence in winning a fourth- straight conference title is the highest it's ever been.
"This is the most focused we have been all year, and we are really locked in," Agee said. "I think we really have a chance. It's going to be scary."