Iona remains in hunt for first place in MAAC after 66-52 win over rival Manhattan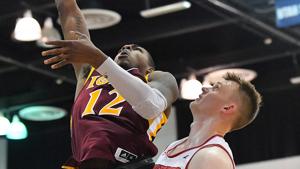 The Iona College men's basketball team had a hard time solving Manhattan College's zone defense, which held the Gaels to 26 points and shooting 35 percent from the floor in the first half on Friday evening.
Iona junior guard E.J. Crawford brought some life to the Gaels' offense early in the second half when he knocked down a pull up three-pointer then responded with a one-handed dunk in transition that shook the rim in Draddy Gymnasium. It was this sequence by the Gaels' leading scorer that set the tone for a 16-2 run, which became the difference in Iona's 66-52 victory over longtime rival Manhattan.
"That was a momentum changer," Crawford said. "Our crowd was there and they were loud."
Iona (12-15, 10-6 Metro Atlantic Athletic Conference) was playing with an eight-man rotation due to junior forward Niksa Nikolic's injury. This forced Iona head coach Tim Cluess to keep four of his starting five players on the floor for more than 30 minutes.
"We know what we have," Cluess said. "We know we have to be careful about what we do rotation wise and how long we played guys."
Iona senior point guard Rickey McGill finished with 13 points and four assists, while shooting 3-7 from the three-point line. McGill, who is now 8-0 against Manhattan (9-18, 7-8 MAAC) in his career, made a pair of three pointers during that scoring run.
"Every time I play against [Manhattan], I try to give it my all," McGill said. "To go out 8-0 against a rival team is a good accomplishment."
Crawford scored a team-high 16 points, while junior guard Ben Perez registered 13 points and eight rebounds. Junior forward Tajuan Agee had nine points and eight rebounds. Freshman Andrija Ristanovic was efficient on the floor, as the 6-foot-11 forward scored nine points (4-4 FG) and collected six rebounds.
"[Ristanovic] played terrific," Cluess said. "He's been back for a week and a half after being out. Hopefully, he stays healthy."
Junior guard Asante Gist scored six points on 2-11 shooting, but made a fade away three-pointer to close out the first half and give Iona momentum heading into halftime.
Iona's win over the Jaspers put them behind Canisius, who the Gaels will face on Sunday, for first place in the MAAC. Despite Iona's position in the conference, Cluess is keeping his focus on the next game and not worrying about where the team sits in the standings.
"I don't really get carried away on where we are," Cluess said. "I'm proud of our guys, but I don't want them to gain any satisfaction right now. This is a time they really need to be hungry."