Rickey McGill shines in Iona's 87-80 win over Canisius on Senior Day, Gaels take top spot in MAAC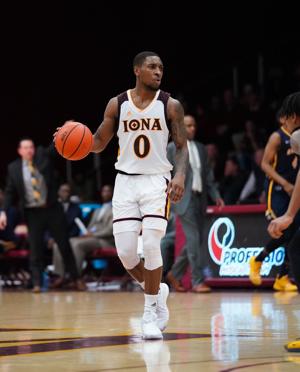 Iona College men's basketball senior point guard Rickey McGill walked off the court, embracing his teammates and coaching staff, as the final seconds ticked away on the Gaels' 87-80 victory over Canisius on Sunday afternoon.
McGill, whose winning track record puts him among the elite that wore maroon and gold, was filled with joy as he heard the crowd shout his name, while walking off the court in the Hynes Center for the final time in his career.
"That was the most exciting thing," McGill said. "I didn't think nobody was going to do that, but I'm happy."
McGill made a lasting impression in his final home game, recording a game-high 30 points, seven rebounds, four assists and four steals. McGill had the hot hand from deep, going 5-10 from the three point line, while becoming the sixth player in Iona history to record 200 career steals.
"It was last game in the Hynes [Center] so I was trying to get it my all," McGill said. "I have progress so much as a freshman and I put in so much time into this game."
Iona (13-15, 11-6 Metro Atlantic Athletic Conference) was trailing by seven points in the middle of the first half when McGill and freshman forward Andrija Ristanovic were making shots from behind the arc to cut into Canisius'(13-15, 10-6 MAAC) lead.
The Gaels managed to go on a scoring run and close out the first half with a 37-33 lead.
Iona opened the second half with a ton of energy especially from junior forward Tajuan Agee. Agee scored 13 of Iona's first 15 points in the second half, which gave the Gaels a double digit lead during the opening minutes.
"I tell [Agee] all the time when you come out of halftime, you got to keep that same energy you had at the start of the game," McGill said.
Canisius was able to storm back thanks to a solid shooting effort from sophomore guard Takal Molson, who finished with 21 points, 10 rebounds and six assists. Molson hit two straight three pointers to give the Golden Griffs a 73-70 lead with seven minutes left in the game.
"[Canisius] was making good plays," Cluess said. "Molson had a phenomenal game and a lot of their guys made big shots. We had some defensive breakdowns during that time and gave them easy looks."
Iona got back on top when junior guard Asante Gist got to the basket for a layup to give the Gaels a 74-73 lead. McGill made three free throws to extend Iona's lead to four points.
Iona took a 83-80 lead with 35 seconds left in the game when McGill found Agee for the layup. Molson missed the game-tying three pointer. Crawford was fouled after grabbing the defensive rebound. Crawford, who had 18 points, sealed the game with a pair of free throws that put Iona up by five.
Crawford finished the game with 18 points after struggling to find his shot in the first half.
"We told E.J. [Canisius] was really crowding him and trying to get the ball out of his hands," Cluess said. "He had to mix it up and go to the rim, get other [players] open and be a all around player."
Gist finished with nine points, while added Agee had 19 points (15 points in the second half) and nine rebounds.
"Agee didn't do anything in the first half because he didn't have a chance," Cluess said. "He was overhyped and try to rush a few things. I think he let the game come to him a little better in the second half."
Iona, who is now in first place in the MAAC standings, will wrap up the regular season on Friday against Rider. The Gaels will have a first round bye in the MAAC Tournament for the 10th straight season, which is a conference record.