Iona men's and women's track and field teams finished top five in MAAC Indoor Championship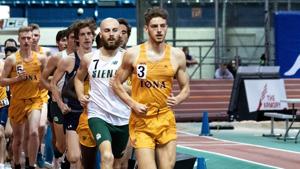 Joseph Pienta coached in his first Metro Atlantic Athletic Conference Indoor Championships as the head coach of the Iona College track and field team, in which the men's team finished in third place and the women's placed fifth on Feb. 17.
Pienta prepared himself and the team for the conference championship by focusing more on logistics.
"This being my first indoor championship as the head coach, I spent more time on logistics than I would like," Pienta said. "It's certainly something I knew was going on. I just wasn't responsible for it in years' past."
Iona placed behind Rider and Monmouth, who walked away with the championship crown. Pienta knew ahead of the tournament that  the competition was going to be tough.
"The MAAC has become a very competitive conference, so our athletes know that they can't take anything for granted and they have to compete on the day," Pienta said. "It doesn't matter what results happened beforehand."
Iona sophomore Jordan Brannan was named the 2019 MAAC Track Most Outstanding Performer.
"I think Jordan Brannan as a sophomore is really coming into his own as a great distance runner," Pienta said.
Brannan won the 5,000-meter on the first day of the championship. He followed that performance by taking gold in the 3,000-meter on the final day of the championship.
Graduate student Johannes Motschmann earned silver, while senior Gilbert Kirui received a bronze medal in the 3,000-meter.
Freshmen Wynn Johnson and Campbell Lee place fifth and sixth in the mile race. Motschmann came in first with a time of 4:11.17.
The men's team finished the MAAC Championship with 112 points. Rider had 116.5 points and Monmouth tallied 271.5 points.
The women's team finished the championship with 64 points. Monmouth's women's team also placed first, recording 187.5 points. Rider came in second with 133 points. Manhattan rounded out the top three with 117.5 points.
Graduate student Jessica Scheriff was named the 2019 Women's Most Outstanding Runner after finishing first in the 5,000-meter event and receiving silver in the 3,000-meter event.
Junior Kaitlyn Ohrtman placed second, while senior Julia Kearley came in third in the mile race. Ohrtman, senior Helena Keenan, junior Gemma Nuttall and freshman Olivia Lazarou finished in third place in the women's 4×800-meter relay.
Pienta enjoyed the competitive nature of the tournament and how everyone gave it their all.
"Everyone there knows there isn't another race to make up for a lousy one, so they all put everything on the line,"  Pienta said. "As a coach, you know that not everyone handles pressure the same way, but I think you see the best out of athletes when you put that pressure on."
Iona's men's and women's teams  will compete in the IC4A & ECAC Championships respectively, which are both hosted by Boston University. The track meets will run from March 1 to March 3.