Rickey McGill, E.J. Crawford receive All-MAAC first team honors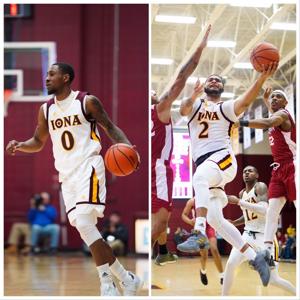 Iona College men's basketball senior Rickey McGill and junior E.J. Crawford were named First Team All-Metro Atlantic Athletic Conference on Monday.
McGill, who was named All-MAAC Second Team last season, averaged 15.6 points, 4.5 rebounds and 5.2 assists per game during the regular season. McGill saw his numbers go up during conference play, 16.9 points, five assists and 2.4 steals per game.
McGill, a two-time MAAC Player of the Week recipient, played a conference best 37.3 minutes per game.
Crawford had his best scoring season as a Gael, leading the team with 17.8 points per game. Crawford registered 18.8 points per game in the MAAC, which ranks second behind Quinnipiac's Cameron Young.
Crawford averaged 35.4 minutes per game and shot 50 percent from the floor during the regular season.
Young, Canisius' Takal Molson and Siena's Jalen Pickett rounded out the All-MAAC First Team.
This was the first time Iona had two players named First Team All-MAAC since A.J. English and David Laury in 2014-15. That was the same year Iona was MAAC Regular Season Champions.
Iona junior forward Tajuan Agee received Second Team honors after leading the MAAC in rebounds, averaging 8.1 boards per game. Agee also averaged 13 points per game, recorded 20 or more points six times and nine double-doubles.
Iona, the 2018-19 MAAC Regular Season Champions, will either play St. Peter's or Marist in the quarterfinals of the MAAC Tournament on Friday evening.