After spending the regular season battling adversity, Iona enters MAAC Tournament filled with optimism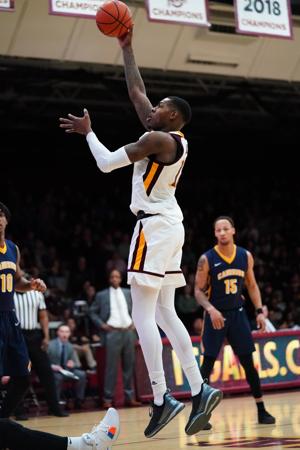 The Iona College men's basketball team is excited and confident, as the Gaels prepare for their Quarterfinals matchup against St. Peter's in the Metro Atlantic Athletic Conference on Friday.
"Our guys are really excited about it," Iona Head Coach Tim Cluess said. "They look forward in playing in the tournament. It's been building up for a while and the guys have a lot of confidence right now."
Iona started off the season in a way they didn't envision. The Gaels were 2-9 during non-conference play and were sitting outside the top five in the MAAC standings during the early parts of February.
"It was very tough to still come in everyday even with a losing record," Iona junior forward Tajuan Agee said. "We tried to not pay attention to that and know it's better to [finish] in the end."
The Gaels knew they were a better team and wasn't going to let the losing record mess up their confidence on the court.
"We knew 2-9 wasn't us," Agee said. "We knew we were a better team than that. We just continued to work and get better."
Iona found a spark in the middle of February when the team went on a seven-game win streak and ended the regular season with a 12-6 conference record, which was good for first place in the MAAC. The Gaels were named MAAC Regular Season Champions for the first time since 2014-15.
"They fought hard and work everyday to improve," Cluess said. "Guys getting to know and believe in each other more has helped a lot."
Iona managed to turn its season around despite all the injuries and illnesses that plagued the team throughout the way.
"We were in a lot of games that were close. One day we will show up with one roster then somebody will be off the roster the next day because they were sick," Cluess said. "We were just trying to get some consistency. Early on, we were on the road so much that we couldn't get it. The injuries and illnesses happen. Besides [Niksa Nikolic] going down, we've had the rest of the group together."
Iona point guard Rickey McGill, the lone senior on the roster, believes this season has possessed more challenges in the last four years.
"I feel this is the most challenging season that I've been in, but I still have to lead my team," McGill said.
McGill was named First Team All-MAAC after averaging 15.6 points and 5.2 assists per game. The honor feels even greater for McGill since he earned it in his final year wearing maroon and gold.
"It's a blessing," McGill said. "It shows how much I progress since I was a freshman when I barely played."
Iona will play at 7 p.m. If Iona wins in the quarterfinals, the Gaels will face either Rider/Siena in the semifinals on Sunday at 6 p.m.
"We worked all preseason and season to get to here," Iona junior guard E.J. Crawford said. "We have to come out with a chip on our shoulder and take what's ours."