Iona advances to MAAC semifinals for ninth straight time after nail biting win over St. Peter's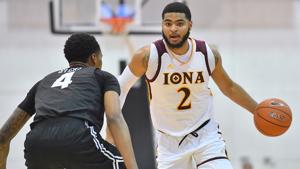 ALBANY- The Iona College men's basketball team will move on the Metro Atlantic Athletic Conference Tournament semifinals after a heart-pounding 73-71 victory over St. Peter's on Friday evening.
"We always come into the game like it's us against the world," Iona senior guard Rickey McGill said. "We just try to play hard and get the win."
There was a moment when the Gaels looked like they were going back to New Rochelle. Iona was up by one when St. Peter's freshman Davauhnte Turner, who scored his team's final nine points, was fouled by Iona junior Tajuan Agee with 0.8 seconds left. With the chance to tie the game, Turner missed the free throw, which led Iona forcing a jump ball to gain possession and ultimately sealing the deal.
"Things did not look great," Iona Head Coach Tim Cluess, who has made it to the semifinals for the ninth time, said. "I do remember last year somebody missed three free throws late in the game so I was hoping for a little of that."
Iona jumped out to a 10-2 lead at the start of the first half, but St. Peter's found a way to comeback and go toe-to-toe with the MAAC Regular Season Champions for the rest of the way.
The Gaels trailed by five points with less than 14 minutes to go in the second half. Iona shifted momentum when the team went on a 14-5 run, which was led by Agee and junior guard E.J. Crawford.
"Basketball is full of runs," Crawford said. "We knew we were going to hit our run. We just had to keep playing Iona basketball."
Agee had the Iona faithful standing out of their seats when threw down a one-handed slam off a pass from junior guard Asante Gist that put Iona up 66-59 with four minutes left.
"Rickey and E.J. found me in my spots and I was trying to finish whenever I could," Agee said.
Iona was up by eight points with 2:23 remaining in regulation when Turner, who finished with 23 points, made a three consecutive shots from deep to put St. Peter's in the position to win the game. However, Iona was able to benefit from a missed free throw and walk away with the win.
Crawford, Agee and McGill were the only players to reach double figures for the Gaels. McGill had 18 points, while Agee and Crawford each scored 26 points.
Iona will play the winner of the Rider/Siena game, which will take place on Saturday evening. The semifinals is scheduled for Sunday at 6 p.m.