Iona falls to Rider in MAAC Quarterfinals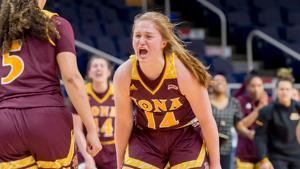 The Iona College women's basketball team season came to an end after losing to Rider 54-46 in the quarterfinals of the Metro Atlantic Athletic Conference Tournament on March 8.
Iona was feeding off the momentum from its upset win over No. 7 Siena in the first round of the tournament, and the Gaels opened up to a 15-10 lead in the first quarter. Freshman guard Shyan Mwai had the hot hand from the three-point line, shooting 3-3 in the opening quarter.
The Gaels continued to shoot efficiently from long range as they connected on four three- pointers in the second quarter and went 7-12 overall in the first half. Iona outscored Rider 16-6 in the second quarter and took a 31-16 advantage at halftime.
Rider couldn't get anything going in the second quarter, as the Broncs shot 3-17 from the floor and 8-27 overall in the first half.
Rider flipped the script in the second half. The Broncs shot a little more than 64 percent from the floor and outscored Iona 20-4 in the third quarter to take a 36-35 lead heading into the fourth.
Iona lost its shooting touch in the third quarter, shooting 1-10 from the floor and 1-5 from behind the arc.
Iona was down by three at the beginning of the fourth quarter when junior guard Morgan Rachu buried a three-pointer to tie the game at 38.
Iona was in a position to tie the game, but guard Lexi Posset scored five consecutive points to give Rider a 48-40 lead with 3:18 left in the game.
Rider would go on to score 38 points in the second half while, Iona scored 15 points. Rider guard Stella Johnson led her team with 20 points and 11 rebounds. Posset had 12 points and three assists, while forward Lea Favre posted a double-double, 10 points and 10 rebounds.
Mwai paced Iona in scoring, dropping 19 points including a 5-8 shooting performance from the three-point line. Sophomore forward Tori Lesko led the Gaels in rebounding with 10 boards to go along with five points. Freshman guard Juana Camilion had nine points and seven assists after scoring 26 points in the Gaels' win over Siena in the first round.
This loss marks the end to Iona's season, where the Gaels went 5-26 and 3-15 in MAAC play. Iona spent the season battling injuries and learning how to play with one another. The Gaels will have an advantage next year, as the team will return its entire roster for the 2019-2020 season.