Gaels learn to handle season away from home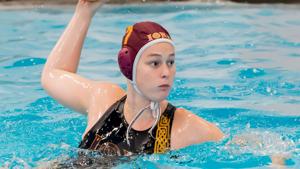 Playing in the comfort of the Hynes Center pool has arguably been a foreign concept for the Iona College women's water polo team, as the team has barely played at home this season.
The Gaels are in a rotation within the Metro Atlantic Athletic Conference that results in them not hosting any matches every four years.
The players have mixed feelings about playing only away games the whole season, besides the two home games at the beginning of the season. One of the major aspects that affects players the most is how much energy it takes to travel for every game.
"This weekend we're going to Virginia, which I think is six or seven hours on a bus," sophomore Jordan van Reeken said. "It's also not as fun because you don't have the home support."
Being away from the home supporters is something Iona must deal with game after game. One of the biggest challenges about playing away games all season is dealing with the consistency of being cheered against. The Gaels makes sure to use the lack of supporters to their advantage.
"The opposite crowd is cheering for the other team and it does fire us up," sophomore Laura Rockett said. "With the past away games, it got us more fired up and made us win the game."
While there are many challenges Iona faces when being away for every game of the season, there are still opportunities to be had. The Gaels see this season as the best way to capitalize on building chemistry and becoming a well-balanced team that gets the job done in the pool.
Another advantage of playing away games all season is getting used to being in front of other crowds. Iona will be comfortable playing in front of opposing crowds, which will allow them to have a nice, steady head in the pool at the MAAC Championship, that takes place this year at Marist College.
This season may be seen as an inconvenience to Iona, and for good reason. But in the end, the Gaels are able to build skills that will last with them every season and help improve their play year after year.