Iona men's team strengthens bond by shaving their hair together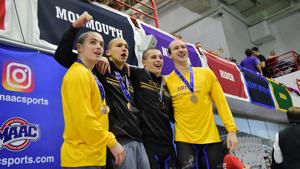 Iona College men's swimming and diving freshman Trevor Foti crossed over a big mental barrier and gained a new level of confidence when he decided to take shaving cream and a straight razor to cut off his hair. Foti, who stands at a towering 6-foot-8, wasn't forced to shave his head nearly to skin level. It was something that he and the rest of the team decided to do as a way strengthen their bond before competing in the Metro Atlantic Athletic Conference Championship.
Shaving isn't a new tradition Iona started. This is something most of the players have experienced since they were swimming in high school.
"I've been shaving my head before meets before my sophomore year of high school then I decided to grow my hair out after sophomore year," Iona freshman Jalen Ramjohn said. "It brought the nerves back, but as we did it as a brotherhood, it felt like us getting ready for war at MAACs."
Foti shaved his head for the three years in high school, but decided to let his hair grow out after seeing his performance in the pool decline as a senior. Foti was happy to shave his head before the MAAC Tournament because it gave him a sense of empowerment, while allowing him keep his swimming cap off.
"Shaving and bicking my hair had sort of a mental ability," Foti said. "I feel it made me go faster because of the mentality and confidence it gave me. It might sound ridiculous, but a big part for it was not wearing a cap in the pool. Being able to skip over the cap part was a big mental barrier I was able to get through."
Freshman Daniel Hadary was hesitant when asked about shaving his hair. When Hadary saw his teammates and other teams around the country doing it, he decided to tag along.
"The shaving head process was really spontaneous," Hadary said. "All of us went to one house and a few of the guys already shaved their heads because they saw bigger schools do the same thing. I think most of us were against it at first. But, one by one everybody did it. Me, Aidan [Holbrook], Jalen and one other swimmer said 'if one of you do it, I'll do it.' We ended up doing it and I don't regret it at all."
Iona and some of the swimmers on Marist sported shaved heads during the MAAC Championship. Rider, however, had blonde hair.
"It was cool that we shaved our heads instead because it would have sucked if we had blonde hair and [Rider] had it too," Ramjohn said.
Prior to the men's team shaving their heads, most of the freshmen got together and dyed their hair blonde.
"It started off last year. They bleached their hair, but they did it around December and January," Holbrook said. "Some people in high school shave their hair and some bleach their hair, so it just carried over in college."
The idea of the swimmers blonding their hair received mixed reactions and there was plenty who didn't want to do. People's minds changed when they saw their teammates doing it and they didn't want to miss out.
"It was a lot of mixed reception," Foti said. "A lot of people [said] they didn't want to do it, but the second we started doing it, they were fully on board with it. It's not only something the freshmen do, but you spend four months with your [teammates] swimming and working out. You form a bond and grow so connected to them that you feel like your missing out not doing it."
Foti didn't want to blonde his hair at first, but seeing his fellow swimmers doing it made him feel left out.
"I originally wanted to skip the bleaching and just shave my head entirely with a razor," Foti said. "It had that mentality until our training trip. When I saw everyone doing it, I had to be a part of it."