Everything you need to know before Iona's NCAA Tournament matchup against North Carolina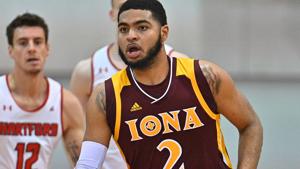 The Iona College men's basketball team will play in its fourth straight NCAA Tournament game against North Carolina on Friday evening.
"[It's] all or nothing," Iona senior point guard Rickey McGill said. "It's a big game for us, bigger than any game we've played this season. We've got to play for 40 minutes and try to get the win."
The Gaels, who will enter their first round matchup as 25-point underdogs, are looking to become the second 16th seed in NCAA Tournament history to beat a number one seed.
Iona, the Metro Atlantic Athletic Conference Regular Season Champions, is coming of its historic fourth consecutive conference championship victory and 10th in program history.
The Gaels have been led by McGill and junior guard E.J. Crawford throughout the season. McGill, the lone senior on the team, averaged 15.5 points and five assists per game. Crawford was second in the conference in scoring, averaging close to 18 points per game.
Iona was one of the top offensive teams in the MAAC, ranking first in points per game and field goal percentage.
"Playing [Iona], we got to understand they'll have five guys outside the three-point line, and all five guys can shoot the three-point shot," North Carolina Head Coach Roy Williams said. "Trying to cover them on the offensive end with the three-point shot and free throw line [is] the biggest emphasis for us."
Iona is playing North Carolina for the first time in 12 years. The Tar Heels are 3-1 in the last four matchups against the Gaels. Iona is still searching for its first NCAA Tournament win, as the team is 0-12 in the big dance.
Iona vs. North Carolina: Date, time and how to watch                           
Date: March 22, 2019
Time: 9:20 p.m. EST
Location: Nationwide Arena in Columbus, Ohio
TV: TNT
Livestream:  http://www.ncaa.com/marchmadnesslive
Get to know the Tar Heels
North Carolina needs little to no introduction, as the team is one of the most prestigious programs in college basketball history.
The Tar Heels were runner-up in the Atlantic Coastal Conference Tournament, as they fell to Duke in the championship.
North Carolina, who is one of three number one seeds that are from the ACC, is 27-6 and went 14-2 in conference play.
North Carolina is known for putting points on the board, averaging 86.1 points per game and shooting 46 percent from the floor. The Tar Heels is a strong rebounding team, ranking first in the nation in rebounds per game.
North Carolina will give Iona matchup problems with players like graduate transfer Cameron Johnson and senior forward Luke Maye. Johnson, who is a 6-foot-9 guard, led the Tar Heels in scoring with 16.9 points per game and is fifth in the country in three-point percentage. Maye averaged a double-double, 14.7 points and 10.5 rebounds per game.
Player to Watch: Coby White
North Carolina freshman point guard Coby White was able to make a name for himself in the ACC despite all the hype surrounding Duke's Zion Williamson and R.J. Barrett. The former McDonald's All-American was ninth in the conference in scoring, as he averaged 16.3 points per game.
"[White's] extremely gifted, extremely competitive and extremely good," Williams said. "He has the ability to the ball in the basket. He's a good shooter and I think he will eventually be a great shooter. He has no fear attacking the basket and he's better defensively than anybody thinks about. He's a complete all-around player."
White scored 30 or more points twice during the regular season and was named ACC Freshman of the Week five times. White set North Carolina's freshman record for most three-pointers in a single season with 76. He was named to the ACC All-Freshman Team and the All-ACC Second Team.
White is a quick guard, who can score from anywhere on the court especially from deep. White has seen his draft stock rise, as he is projected to be a top-10 pick in the 2019 NBA Draft even though he wasn't considered a one-and-done player at the start of the season.
"[White] is terrific," Iona Head Coach Tim Cluess said. "Our job is to get back on defense and slow him down and build a wall in front of him and not let him have his way the whole game."
If Iona allows White to get into a rhythm on offense, it will be a long night for the Gaels.