Iona freshman Shyan Mwai reflects on first season with women's basketball team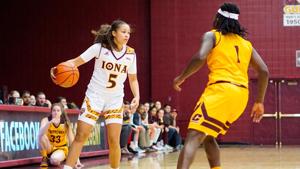 Freshman guard Shyan Mwai is coming off her first season on the Iona College women's basketball team (5-26, 3-15 Metro Atlantic Athletic Conference) in which she played a key role in the Gaels' rotation.
Mwai finished the 2018-19 campaign, averaging 8.4 points per game and scoring a season-high 19 points against Siena and Rider at the MAAC Tournament in Albany.
The start to Mwai's career at Iona brought a lot of transition, thinking, and hard work on and off the court. Mwai says the transition from Lowell High School to Iona College was difficult, especially during her first semester.
"Getting school work was a lot harder because I had to be on the road a lot," Mwai said. "The first month was hard because I had to go class, then go to practice, then go to study hall."
From a basketball standpoint, Mwai thinks the game feels faster in college compared to high school. Mwai also noticed each non-conference and MAAC team had talent within the entire roster play, while in high school, there were at most one or two good players in the league she was in.
Mwai picked Iona because she believed that the program would be the best place for her to be successful. She knew right away that she was going to have a lot of playing time, considering that the team was young and rebuilding a new culture.
Mwai had to battle through a stress fracture on her right foot, which made her miss more than a month. Mwai said that the last situation that a freshman wants to be in is out for an injury.
"It hurt me," Mwai said. "Sitting back and watching the game from a different standpoint is completely different. I could see everything from sitting on the bench. I took the time to learn and be a student of the game, and then when I got back, I used what I saw and used it on the court."
Despite all the losses the program went through this season, Head Coach Billi Chambers only remained positive with her team. Mwai said Chambers would never let them down and knew the potential that each player had.
"I love her intensity and she really pushes us to be the best we can be," Mwai said.
The Gaels came into the MAAC Tournament as underdogs, but Mwai felt their record didn't define them as a team.
"Everybody thought that we were underdogs coming into that game," Mwai said. "Our record did not define us as a team, we had all the confidence in the world and we were ready."
The Gaels pulled off a 75-64 upset victory over No. 7 Siena to advance to the quarterfinals against Rider.
Iona dominated Rider in the first half, outscoring the Broncs 31-16. However, Iona's offense could not click in the second half, as the Gaels eventually fell to Rider 54-46. That said, Mwai is proud of how they played this season.
"We went through a lot of adversity and came together and worked together," Mwai said. "I'm just proud of everyone on my team. I think there is a lot to look forward to."
Mwai and the Gaels gained valuable and much-needed experience, which should benefit them moving forward.