Justin Burkhamer discusses importance of strong competitive nature on golf course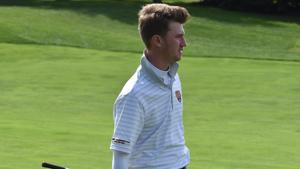 Golfers compete in one of the most individual, competitive sports. They play to the best of their ability, whether it be in a friendly game or a serious match. Iona golf sophomore Justin Burkhamer takes on this mindset when he competes against anyone in golf.
Burkhamer first got into golf at the early age of four, thanks to his dad's influence. He grew up playing many different sports in school, trying out each one for a different amount of time. At the age 13, he decided to pursue golf as his career.
"I love the individual aspect of [golf]," Burkhamer said. "It's just you, there's no one you can blame it on."
Burkhamer's friends from his home state of Florida inspired him the most when working on his game, and they have since helped him lift it to the next level. His friends' competitive nature pushed Burkhamer to reach for bigger milestones.
"If I didn't have them pushing me every day, I wouldn't work as hard as I do," Burkhamer said.
Burkhamer competes constantly with his friends over school breaks and when he isn't traveling with the golf team. Burkhamer also likes playing against golfers better than him because it forces him to step up his game.
"Playing with people that are better than you, if not the same level as you, uplifts your game so much," Burkhamer said. "If you play with someone that's a lower handicap, it's kind of just a mess around."
Burkhamer's hard work ethic is also reflected in his ability to balance school work with being an Iona athlete. Making sure the work is done as soon as possible and not procrastinating is the best habit you can form as a student-athlete.
"The good thing about college is you don't have the same classes every day," Burkhamer said. "So the homework is a little bit lighter. If you push stuff off until the last minute, I'm sure it's really hectic, but if you get on top of it, it's pretty easy."
Overall, a competitive mindset and hard work ethic are some of the reasons that Iona's golf team won the Metro Atlantic Athletic Conference championship last season.
This year's team consists of five players from last year's championship team, as well as two new freshmen. Burkhamer believes his team has a good chance at winning the conference title again this spring.
"I don't see why we won't do it again this year because now we know what it feels like to win," Burkhamer said. "[Now,] I think it's pretty easy just to lay down the stones and go out there and get it done this year."