Kerins brothers talk about experiences managing men's basketball team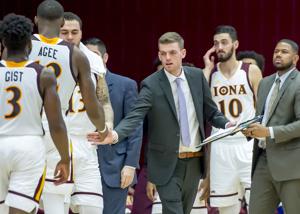 Ricky Kerins arrived on the Iona College campus the same way most freshmen do: optimistic, anxious and not knowing a single person. This is the norm for many first-year students who have packed their bags, moved into their dorms and said goodbye their loved ones.
Kerins was already par for the course. He settled into his dorm in Rice Hall and met his roommate. College had kicked off for Kerins, but what happened next was something he didn't expect.
Kerins became a team manager for the men's and, for a brief time, the women's basketball team. He jumped on board as a team manager in 2014 and held that position until 2016. He was the head manager from 2016 to 2017. He then became the graduate manager for the women's team from 2017 to 2018 before holding the same title for the men's team since 2018.
"Honestly, I had no idea what I was walking into when I first started working with them," Kerins said. "The original manager almost told me not to do it. I almost listened to him and I'm glad I didn't."
Rice Hall was where it began for Kerins. He and a friend he had met in the dorm both had the same passion for basketball. However, that passion was taken to another level when they found out some of the men's basketball players lived floors away.
"The basketball team actually lived right above us in Rice. A.J. [English], Tre Bowman, all of those guys, and we got to know them," Kerins said. "We ended up going to probably every game, and I just fell in love with the atmosphere, the team in general, and their style of play."
Not being involved with clubs, teams or intramurals freshman year helped fuel Kerins' desire to become involved with the team. The guidance from John Kiggins, the team manager at the time, also helped him decide to become involved.
"By going to the games, I met the manager at the time, John Kiggins, and he reached out to me and told me what the position is," Kerins said. "I wanted to give it a try, and I tried it the next year and I'm still here."
Although it hasn't been an easy job for Kerins, he has learned to balance school and managing just like student-athletes.
"The first semester, I was in over my head dealing with traveling with the team, and I also have a side job at a golf course near here," Kerins said. "It was tough the first semester, but in the long run it helped me and my time management skills."
Sticking it out was a smart idea for Kerins, a graduate student, as he has now become entrenched within the Iona basketball community and a valued member of a team that has dominated the Metro Atlantic Athletic Conference.
Some people may look at team managers and think they're outliers. However, according to Ricky and his brother Brian – who is a sophomore at Iona and also serves as a manager for men's basketball – they have never felt as if they weren't members of the team.
"A lot of people don't consider you apart of the team," Brian said. "But the players [and] you [are] apart of the team."
With the help and persuasion of Ricky, Brian decided to become a manager for the men's basketball team after being a practice player for the women's team last year. The decision would have been much tougher if it wasn't for the guidance of Ricky.
"[Ricky] will never admit that he has done anything, but he does everything for this team," Brian said. "Every little thing that goes on and every little problem that everyone has, everyone goes to him."
Brian helps out during practice, from working the clock, rebounding for the team and helping team walkthroughs.
Ricky works the travel schedule and keeps tabs on players, making sure they are in study halls, going to class and attending their post-practice shooting times. All of these responsibilities can sometimes be tedious, but both of the brothers take an approach of  "you are a part of something bigger than yourself."
"You have to have that kind of personality where you have to take yourself out of it and you have to think of the bigger picture," Brian said. "You want to help anybody in any way you can."
Grateful and understanding of their positions, Brian and Ricky have never taken their jobs for granted. Iona has given them the platform to get involved right away, while managers at bigger schools usually have to wait a long time before they are heavily involved with the team.
"I know a couple kids at St. John's, and I think there is about 15 managers and only like two of them travel and it takes you forever to get to that point, even if you do," Ricky said. "The cool thing about doing it here is you basically walk onto the team and you get to travel your first year and it's pretty awesome."
Iona has provided experiences that Ricky never thought he'd get, and chances Brian hasn't even gotten to yet. Ricky has worked directly with some of the best players in the program's history like Rickey McGill and English, while working under national men's Head Coach Tim Cluess and women's Head Coach Billi Chambers.
Ricky and Brian were able to share one last memory as managers together this past season. Iona had an up- and- down year, which left Ricky skeptical over the Gaels' ability to win the MAAC tournament again in his final year as manager.
"During the year we were 2-9, and in-conference we were like 4-6, [and] I was thinking to myself that I hope we turn this thing around just for Brian because I want him to be a part of a championship winning team," Ricky said. "I thought it was really cool we got to experience it together."
According to Brian, Ricky's worries were real, and he even began preparing Brian and the other managers to understand that there are other opportunities to win. However, those worries became reminiscent stories when Iona turned their season around.
"When we were in that time, he was actually preparing me and the other managers by saying 'oh you may not win it this year, but you will have other opportunities and you still have to love what you do,' " Brian said. "But when we started winning, he would always tell us stories of when he was winning MAAC championships and how it feels. You never really know how it actually feels until you win."
Ricky, who recently finished his final year as team manager, hopes to one day pursue coaching at the division-one level. Brian has a few years left to carry on the Kerins name and potentially be a member of some more Iona MAAC championship teams.