The Zion Williamson era at Duke ended in heartbreaking fashion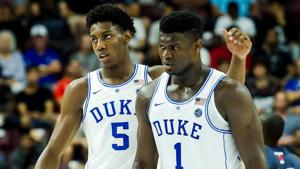 The Zion Williamson era at Duke came to an end on March 31 when Michigan State knocked off the top overall seed in the Elite Eight and advanced to the Final Four.
Michigan State proved throughout the 40-minute contest that its experience and toughness outweighs Duke's young talent.
Led by star guard Cassius Winston, the Spartans were neck and neck with Duke for all 40 minutes, even holding a four- point lead going into half- time. Winston scored 20 points and added 10 assists to secure a double- double.By leading the Spartans in scoring and getting his teammates involved, Winston was the biggest factor in Michigan State winning this game.
The talented Blue Devils, led by college superstars R.J. Barrett and Zion Williamson, played their hardest to keep their season alive. Barrett put up 21 points while Williamson, the likely number one overall pick in this year's NBA draft, added 24 points and 14 rebounds.
While Williamson shot an efficient 10-19 from the floor, he did not take another shot in the last minute and a half of the game. Barrett took matters into his own hands, first attempting a three- pointer that did not fall. Duke recovered the offensive rebound, and Barrett drew a foul while going up for the game-tying layup. Barrett went 1-2 from the line to cut the deficit to two points.
Winston was able to dribble the clock out, as Duke couldn't foul him during the final seconds.
Turnovers were Duke's downfall, as the team committed 17 turnovers compared to Michigan State's seven. Losing possessions like that hurts any team, especially in important games where the opponent is constantly looking to exploit any mistakes.
Duke entered the tournament as a heavy favorites to win the title, likely due to their dominance throughout the season with its freshman class of Williamson, Barrett, forward Cam Reddish and guard Tre Jones.
This is likely the final college season for Williamson and Barrett. Many NBA mock drafts have Williamson as the first overall pick, with Barrett not too far behind. Williamson had a phenomenal freshman season for Duke, becoming the first freshman to win both ACC player of the year and ACC tournament MVP.
Despite this loss, the future is bright for the two young players.