Restaurant Review: Dessert Special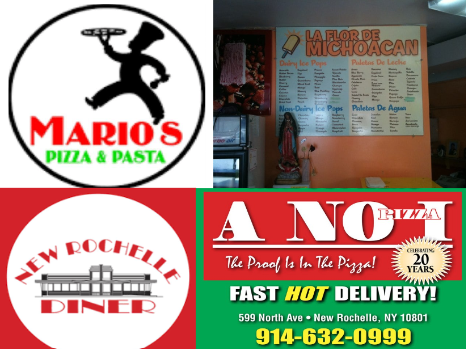 Everyone has a favorite dessert. It could be a type of pie, cake, something cold like ice cream or something warm like a fried dessert.  However, a dessert is only as good as the place that makes it, so it can be hard to narrow down where to get a good dessert. As the self-proclaimed dessert specialist that I am, I will be your guide to the many desserts found all around New Rochelle. There are so many different delectable desserts in New Rochelle and many different ethnicities who sell them.  
Zeppoles are a classic Italian dessert consisting of fried dough balls covered in powdered sugar. My favorite place to get some zeppoles is "Mario Metro Pizza and Pasta" on 357 North Avenue, they load up a brown bag filled to the brim with zeppole's covered in powdered sugar, and for $5.95 a bag you can't go wrong. The zeppoles are flaky, spongey and delicious. I strongly recommend you stop by if you've never had zeppoles or are in need of a good dessert. 
Another delicious dessert from the heart of Italy is tiramisu. A caffeinated, infused goodness layered with lady finger cookies, drenched with coffee, then filled with a cream base and finally dusted with cocoa powder on top. Tiramisu is a light, creamy, delicious dessert and is perfect for anyone who loves the taste of coffee but isn't in the mood for coffee in the traditional sense. My favorite place to get tiramisu is close to campus at "A No 1 Pizza" on 628 North Avenue. To all the coffee lovers out there, I strongly recommend getting a slice of tiramisu and enjoying its caffeinated goodness. 
The warmth of summer is approaching fast and the best way to cool down during the heat waves is with a delicious, refreshing popsicle. My favorite place to get popsicles is a shop on 215 Union Avenue called "Paleteria El Sabor De Michoacan" which is a Mexican-based ice cream shop with a huge variety of popsicles that are so delicious and flavorful and will leave you feeling refreshed and satisfied.  I recommend the lime-flavored popsicle, it's sweet, bitter and very refreshing on a hot day. I'm also a big fan of the passionfruit popsicle made with milk. Some of the popsicles are made with milk and some are made with water, so I suggest keeping that in mind when selecting your ice cream of choice. The popsicles are $3.25 a piece and with a price like that you can't pass up the opportunity to stop by and enjoy.  
The New Rochelle Diner is a staple for many types of food including its incredible and vast selection of desserts. Some of my favorite desserts on their menu include their coconut custard pie. I'm a big fan of coconut, and highly recommend anyone who also enjoys coconut give the pie a try. They also have tasty carrot cake and rich, delicious brownies that pair perfectly with some ice cream.