Iona dancers earn spot in NYU's Culture Showcase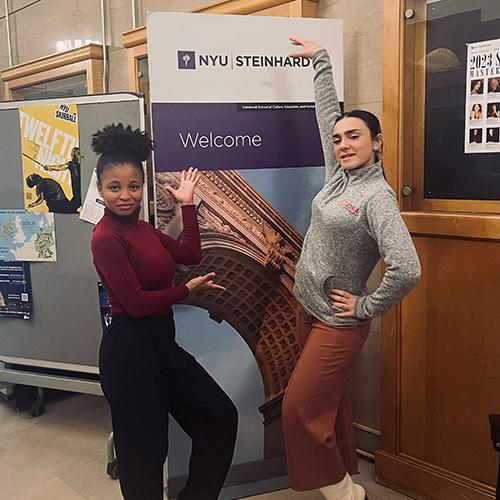 Iona University juniors Haley Aversa and Jennifer Romain presented their choreographic work entitled "Fusion" at the New York State Dance Education Association (NYSDEA) Conference at the New York University Steinhardt School of Culture on Feb. 4.  
The students were mentored by Hannah Park, Ph.D., an associate professor of dance and assistant chair of the Arts & Languages Department. 
"Jennifer and I were thrilled to be selected to perform at the NYSDEA Conference," Aversa said. "It was a wonderful opportunity to showcase our hard work, while building relationships with likeminded creatives." 
Selection for the NYSDEA Conference meant that Aversa and Romain had an opportunity to perform outside of Iona, gain exposure to the field in a professional setting, and share their ideas with dance educators.  
"I'm so grateful to go to a school where I'm encouraged to pursue my passions and reach my full potential," Romain said. "The whole experience was so exciting, and I learned so much along the way." 
Dr. Park was also invited to the NYSDEA Conference to present a lecture titled "Dancing Me & Us: Creative Process as Critical Pedagogy." Park highlighted ways to link social justice and inclusion with choreographic and creative curriculums.  
"The pandemic has reminded dance educators of the power of arts and creativity for reflection and processing one's thoughts and voice," Park said. "The goal of my session was to demonstrate a way to empower and uplift participants' voices on the topic of inclusivity through movement and creative processes. I'm honored to have been selected to present such important work." 
During her session, which focused on exploring identity, Park presented background research on critical pedagogy and teaching empathy in the context of dance.