Book recs: 'Shatter Me' gives personal account of teenage girl with extraordinary powers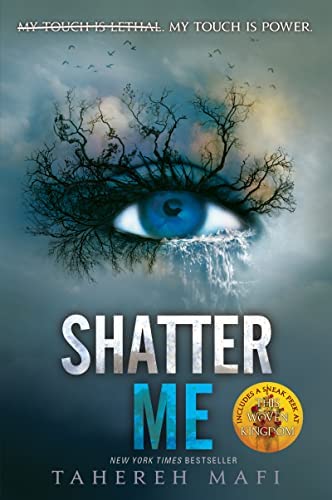 Welcome back Gaels! I hope everyone had a restful, productive break. If you're like some of the honors students, you might have been working on your senior thesis, and if you're like me, you might have been slipping in some fun reads between all those required texts. Recently, I've been getting back into the dystopian genre and returning to old school, young adult classics.  
"Shatter Me" by Tahereh Mafi is definitely on the younger end of young adult, and I'll admit that's part of the reason that I've hesitated to read it. However, after being shown enough fan art on Pinterest and reading so many out-of-context quotes on Bookstagram, I finally caved. aNow that I'm finishing the second book in the series, I'm glad I did. 
For her entire life Juliette Ferrars has been told that her touch is lethal; it has the power to kill people. She has been shunted from hospitals, psychologists' offices and juvenile detention centers until she is finally thrown into an asylum. Utterly alone and isolated from the rest of her dying, ravaged planet, she has lost all hope of ever rejoining the rest of society, let alone being able to touch another human being ever again. That is, until a new roommate, Adam Kent, is thrown into her cell. This new roommate is like a breath of fresh air; he's playful, kind and sharp-eyed, but also someone that Juliette recognizes from her past. Her world is quickly upended, and this old friend becomes just the first in a series of unpredictable twists and turns that throw her life into chaos. Her touch may be lethal, but it's just the sort of edge this new, dictatorial government needs to keep control of its people. Juliette's unique power and edge attracts Aaron Warner, leader of Sector 45 as he sees the potential in her and wants not only to help her delve further into her power, but also to unleash Juliette on behalf of the Reestablishment. Stuck between her old affection for Adam Kent and being the object of Aaron Warner's obsession, Juliette must decide if it's better to be used as a weapon or stand up and prove to herself and the world that she's not the monster everyone has written her off as. 
It was easy to get invested in this dystopian world as the author does a fantastic job of putting readers in Juliette's head. The audience is  introduced to this world alongside her, feeling all her anxiety, uncertainty and doubt. Her thoughts are scrambled and frantic, and that translates onto the page in a way that feels poetic. Due to that writing style, it's incredibly easy to pour through the story and feel all the turbulent emotions and thoughts that Juliette herself goes through.  
"Shatter Me" is  an easier read to get through and is chock full of teenage angst that is typically associated with books on the lower end of young adult, but it's an absolutely addicting and highly entertaining story that you'll want to pour through just to find out how it all ends.