Esports: Redefining what it means to be an 'athlete'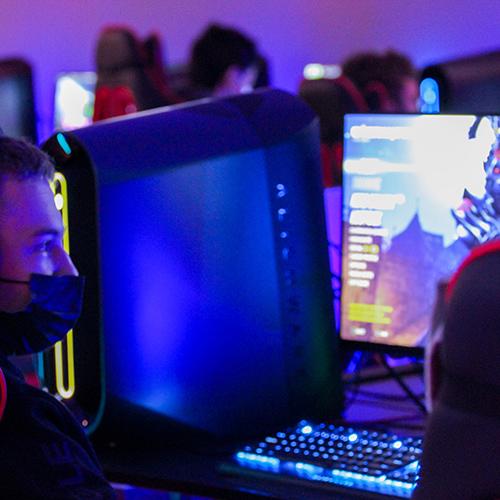 Niomi Nunez, Features & Lifestyle Editor
November 17, 2022
"She shoots, she scores," or in the case of esports "she clicks, she scores." One of Iona University's newest sports is played behind a screen rather than on the field, but it still requires the same amount of strategy, teamwork and dedication.  
After renovating two floors on the ground floor of LaPenta Student Union in the spring of 2021, Iona announced their newest Division I sport: esports. The club makes means of the competitive side of video gaming and gives its athletes a platform to show off their gaming capabilities. In just under one year, the club has attracted 70 players and has won over 10 titles. 
Esports is not only the newest craze at Iona University, but it is also gaining popularity in universities and colleges across the country. Despite its novelty on college campuses, esports and its concept of competitive video gaming have been around for quite some time.  
According to ISPO.com, esports have been around for as long as video games themselves. Back in the 70s, arcades and home consoles were becoming increasingly popular because of the sense of competition they provided. By the 80s, high score lists offered a sense of reward and validation. Competition, reward and validation are the qualities that now make video gaming less of a hobby and more of a sport, and in the 90s there were multiplayer games that allowed multiple people to play the same game over the internet. The first-known video gaming competitions were introduced in the 90s. As gaming technology progressed, gaming competition gained attraction leading to the vast demand for esports in recent years.  
Collegiate esports was established in 2009, but it wasn't until recently that the sport gained traction. According to the National Association of Collegiate Esports, there are 175 colleges that participate in esports, one of which is Iona University.  
Chase Nicholas, a freshman and marketing major, plays for Iona's Super Smash Bros Ultimate esports team. Nicholas described Super Smash Bros as "a Nintendo fighting game in which every character has their own unique move set." Before college, Nicholas was a track and field athlete. It wasn't until he got to Iona University that he decided to turn his attention over to esports. Nicholas is familiar with the aggression, determination and diligence associated with sports of any kind.  
"When it comes to sports in general it's just really anything that is competitive, anything that you really have to practice and I feel like esports requires the same things; it's just a video game," Nicholas said. 
The Super Smash Bros team consists of around 10 players. They dedicate two days (Wednesdays and Fridays) a week to practicing for matches that are typically held virtually on Mondays, Tuesdays and Thursdays. Nicholas claims that the game itself requires extensive practice and that many players stick to one or two characters in hopes of mastering that character's skill set.  
"I have my own two characters that I practice; they have their own unique sets that I build a whole play style around," Nicholas said. 
 Electronic sports are a somewhat hard concept to understand considering that sports are associated with physical activity and video gaming seems like the polar opposite. Many members, including Nicholas, feel that esports is a result of the changing times.  
"This is how the world is evolving in general," Nicholas said. "We are in this technological revolution, anything can be done with technology. So, I feel like the definition of sports or really anything is changing as the world changes." 
Sophomore and co-captain of the Super Smash Bros Ultimate team, Jack Yioupis, agrees with Nicholas, arguing that esports is no different than any other sport played at Iona.  
"We are no different than that of a physical sport, like basketball, soccer, baseball, etc.," Yioupis said.  
As co-captain, Yioupis focuses more on the organizational aspect of the team and tries to keep everyone on a schedule that prioritizes both the success of the team and the individual players. For Yioupis, finding that balance is vital because he cares deeply about the wellbeing of his teammates inside and outside of esports.  
Yioupis has many goals for his team this year, the most obvious one being to bring home the gold. Aside from winning, Yioupis hopes that esports gains the recognition he believes it deserves.  
"Bottom-line, we all want to win," Yioupis said. "But I want to go a little bit further than that. I want us to develop and have a name for ourselves. I want us to be a staple to not just our community, but I also want people to see [Iona] and know that we are a capable force that can give people a challenge."  
Like Nicholas, Yioupis played a physical sport before coming to Iona University and finding his love for esports. Yioupis played tennis for the majority of his teen years. After realizing that Iona did not offer tennis as a club sport, Yioupis says he felt a bit lost. 
"I kind of thought that I wasn't going to have anything on campus," Yioupis said. "Since joining esports, I have been grateful because I have been able to find a lot of my friends." 
Even as a tennis player, Yioupis said that people discredited his athleticism by claiming that tennis was not a real sport. Yioupis says that this is like the discrediting of esports.  
"I went through the majority of my life before college, having people tell me that something like tennis was not a real sport, meanwhile you'll see it played year-round and on an Olympic level," Yioupis said.  
Iona's esports team is a play with other teams in the 1st division, meaning they compete at the highest level of intercollegiate sports. Yioupis says that playing at this level reflects the time and energy that goes into esports, making it much like any other DI team. 
"Like with the basketball team, they are always facing the top schools because their skill level is that high, the same thing applies to esports," Yioupis said. "We are all competing at the top of our game with the best of the best." 
Aside from allowing him to exercise his competitive attributes and display his gaming skills, Iona's esports community has changed Yioupis' life for the better. 
"I love it to pieces. [Esports] has given me so many opportunities and so many chances that I don't think I would have had outside of [esports]," Yioupis said  
Coach Anthony Scaccia is one of the original designers of the esports gaming lounge. The rooms were built in spring of 2021, and they were finished in June of that same year. They built a public gaming room with the remaining funds. Scaccia became the esports coach after the first coach left. His responsibilities include enrolling the team in conferences to play against other schools.  
Before learning about esports, Coach Scaccia did not find much value in video games in general. Like other esports participants, Coach Scaccia was an athlete, but after injuring himself, he turned to video games for the competitiveness he longed for.  
"I was one of the people that used to say that 'I can't believe people get hooked on the game,' but, I injured my shoulder playing sports, and during rehab I started playing World of Warcraft," Scaccia said. "Sometimes people don't realize that not everyone can shoot the three, not everyone can't throw a football, and you know, video games are a great and give that same sense of competition." 
"That was a great experience. At one point I moved, and they started losing so I ran over to the spot I was standing in just to make sure it wasn't a jinx," Scaccia said. "It was great to know that we built a program from scratch and in the first year we won something." 
Iona administration has recognized the success and popularity of esports on its campus and is hoping to take things to the next level by offering courses on esports.  
"I've heard that [Iona] may offer some classes on Esports. If you think about it's the same thing as broadcasting it's just a different type of thing that you're broadcasting," Scaccia said. "If you take sports management, it's the same concept. You're just managing esports and if people don't realize it is probably as popular as racing." 
  Just one year after being established, Iona University's sports team has struck gold in many aspects. The team has gained media attention and has influenced Iona's possible interest in providing courses on esports, all while redefining sports and what it means to be an athlete.