One woman dies in New Rochelle fire near Iona's campus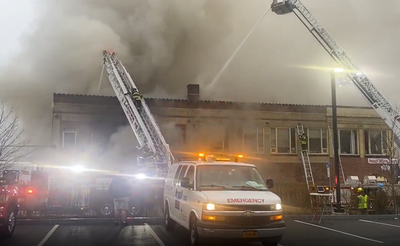 One woman died in a five-alarm fire in a building in New Rochelle on March 31. 
The fire took place at 2 Hamilton Avenue, just a few blocks from Iona College, starting early in the morning around 6 a.m. Although the fire was not at any of Iona's buildings, smoke from the scene effected air quality conditions at Iona. A cloudy haze could be seen over campus and the air was filled with a strong scent of smoke.  
Students received an email about the conditions on campus at 12:37 p.m. Iona College did not cancel classes, instead just advising students to exercise caution and make their best health judgments. 
Traffic on North Avenue was affected by the incident, causing delays for commuting students and disrupting the Gael Express route. 
Since the local fire hydrants were being tapped by firefighters, the water lines appeared brown in some instances and water pressure was reduced.  
By the end of the day, these issues were fully resolved and campus was back to normal.