Iona renames art center after cherished trustee JoAnn Mazzella Murphy '98H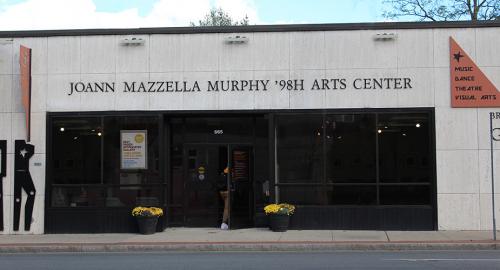 Last month, Iona dedicated the arts center to beloved trustee JoAnn Mazzella Murphy '98H.  
Murphy was a member of the Iona community for over 20 years. She was on the Board of Trustees and was an enthusiastic supporter of the arts. She was a chair of the Iona College Council on the Arts, which in 1987 obtained an endowment from the Baron Lambert Fund for the Arts, founded by JoAnn and Joseph Murphy. To commemorate her devotion as a patron to the arts, she received an Honorary Doctor of Humane Letters, honoris causa.  
Outside of Iona, Murphy was involved in many organizations and projects as a successful businesswoman.  
She held many titles, including vice chair of County Bank and broker-owner of Elinghouse & Stacy and was a former art and antiques gallery owner. Murphy was a trustee at her former high school, St. Pius V in the Bronx, and of the Ursuline School in New Rochelle, where she served as an honorary co-chair of the Innovation Campaign. She was president of the Edmund Rice Christian Brothers Art Foundation and an honorary Christian Brother.  
Murphy was a co-founder of the Westchester Chapter of the Juvenile Diabetes Research Foundation. She assisted as co-chair of Columbia University's Diabetes Advisory Committee, which is now known as the Naomi Berrie Diabetes Center, where she founded the Christopher J. Murphy Memorial Professorship of Diabetes Research and championed diabetes research through the Columbia Center for Translational Immunology.  
﷟HYPERLINK "https://www.iona.edu/sites/default/files/2021-11/ancillary-images/Murphy-Art-Center-Exterior-.jpg"