ASL Club participates in Walk4Hearing, plans events for upcoming year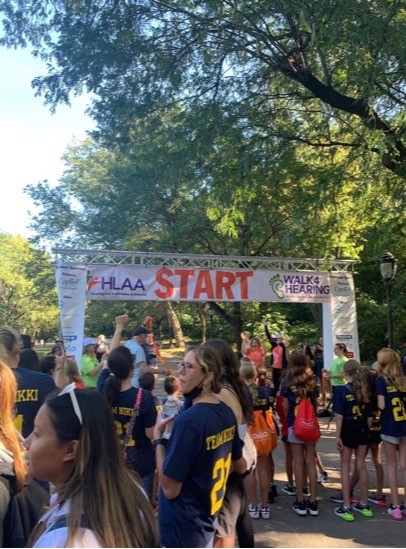 The Iona College club collaboration of the year took place in Spellman 106A last Tuesday. 
ASL Club and Speech Club both had their first meetings of the fall semester. ASL Club, led by President Angela Ennis and Vice President of Membership Christina Marasevic, who are eager to see how the club will progress this year in person, will be teaching their club members the alphabet in sign language.  
The club is very active in the community as they plan many events throughout the year. They occasionally sign the national anthem at Iona's basketball games and take part in the Walk4Hearing event that is held every year.  
Last semester, ASL Club met over Zoom, so this is the first time since early 2020 that the club is meeting in person.  
"ASL Club is excited to be back in person," said Marasevic. "Although our events looked a bit different last year, we were able to center many of our discussions around difficulties faced by the deaf and hard of hearing community during the pandemic. For example, we learned about how masks make it impossible to lip read, adding an extra communication barrier for this community. Our club members also made clear masks to help combat this issue. ASL Club being back in person will be a benefit to everyone involved."  
There will be many more events hosted by ASL throughout the year. The ASL Club president is enthusiastic about these upcoming events and future partnerships with other organizations.  
"ASL Club has many events in store for the rest of the semester," said Ennis. "We have a really exciting event called 'Sign and Sip' in October where students will learn how to sign the colors along with some words related to drawing and painting. We are also planning on partnering with other organizations on campus including the Iona Players, Neurodiversity Special Interest Group and Model UN."  
It appears the Walk4Hearing event is just the beginning of a busy and exciting year for the club.  
This year's Walk4Hearing event took place on Sept. 19 in New York City. The walk was held at Riverside Park with several organizations making appearances. Iona's ASL Club as well as the Speech Club both walked, and anyone else who wasn't in the clubs but wanted to walk was free to join. Donations were not required but were suggested. The two clubs took a bus to and from the city that was provided by the school. September is also Deaf Awareness Month, which makes these events even more special.  
If you are interested in being a Speech Pathology major, want to learn sign language, or just want to get involved on campus, ASL Club is the perfect club for you.