Iona College hosts impactful photo gallery in honor of 9/11's 20th anniversary
On the weekend of Sept.10-12, the Ryan Library rotunda was transformed into an intimate art gallery with photos of the 9/11 attacks at the World Trade Center to commemorate the 20th anniversary of the tragedy. Immediately walking into the library, the photos were arresting. The prints were quite large, commanding the attention of passersby and also allowing for details to be seen upon walking closer to the photos. The description for the exhibit read, "A lifelong photographer, Botte, a first responder and detective with the NYPD during the attacks, found himself in the position to capture the iconic and profound images of a pivotal moment in history. Tragic, haunting, poignant, these photographs also convey will, strength and heroism." 
The description of the exhibit definitely holds true. The photos that were exhibited were indeed moving and continue to linger in the minds of those who saw them. It is hard not to look away at photos of EMS workers tending to a man with severe burns or of the rubble left behind by the fallen buildings. These photos definitely convey the carnage left behind by the attacks, but they also showcase the people who risked everything to rescue anyone they could from the destruction. The people in the photographs are seen to be clearly devastated by the horrors they experienced, yet are relying on each other and their own inner strength to carry on. Two emergency workers embracing while looking upon the ruins, another one kneeling down at the barricade in a silent moment, a police officer holding tightly onto his K-9 partner – these photos capture the quiet human moments of those who became beacons of strength for the nation. These photos are so personal, they could make the viewers feel like they were invading the privacy of the photo's subject.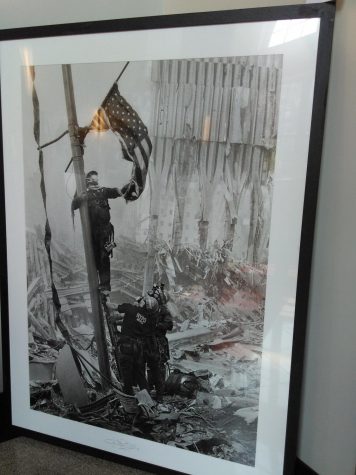 The photos' depth of feeling comes down to John Botte's talent and the unique position in which he found himself. According to his website, he has been a photographer since the age of eight, and has photographed Bruce Springsteen, Van Halen and AC/DC, among others, for Rolling Stone magazine. This experience combined with his position as a detective for the NYPD is what empowered him to take these photos . As his website says, "His position as a first responder and experienced detective gave him the access that allowed him to capture the iconic and profound images of a pivotal moment in history. Botte spent countless hours at Ground Zero, photographing and witnessing firsthand the heroic, behind-the-scenes rescue and recovery efforts." As an emergency worker himself, Botte's photos show that he did not have the perspective of an outsider from the media looking in, but rather the perspective of a man photographing his peers in the aftermath of the 9/11 attacks. 
This perspective is a rather important one for our generation to see. Since most current college students were either not alive at the time of the attacks or were too young to recognize and remember the severity of what happened, the only view many of us have received has been from textbooks or other similar sources which show the mass media's perspective of the attacks. Therefore, it is easy for us to forget the humanity of those working and suffering in the wake of the destruction. This exhibit confronts its viewers with the humanity of the emergency workers from the perspective of one among them.