Met Gala showcases fashion, sparks controversy
The 2021 Met Gala might have occurred in the afternoon, but the stars were out for the return of New York City's extravagant event. COVID-19 caused the annual costume party to be cancelled, making 2020 the first year that the Met Gala was not held since 2002. 
 This year's theme was "American Independence." Those participating made sure to make up for the lost time as quite a few outfits had people around the world talking.  
Kim Kardashian's outfit choice was one of the highlights of the gala. She wore an all-black dress with black high heels and a black mask that covered the entirety of her face. The dress was long enough to cover every inch of her body.  
The Kardashians are commonly known to be the center of attention, which makes the fact that Kim has everyone talking about her appearance not surprising at all. Some people weren't too thrilled with Kim's choice of dress, including Iona students.  
Junior Zenaida Perez was left a bit confused by Kim's attire.  
"I think she took the biggest risk out of all the guests, but she should've made a better statement," said Perez. "I couldn't tell what she was trying to say with her outfit."  
People have been tying Kim's outfit choice to her soon to be ex-husband, Kanye West. For the past year, Kanye wore a mask that covered his entire face. He recently released his 10th studio album, Donda, which features an all-black cover. In the lead-up to the event, Kanye had three listening parties with Kim in attendance. Kanye wore all black at every listening party and at the end of the third one, Kim and Kanye got "re-married." This information leads many to believe that Kim's outfit choice was a nod to Kanye. 
Congresswoman Alexandria Ocasio-Cortez made a surprise appearance at the gala and was arguably the most influential guest. She wore an all-white dress with the words "TAX THE RICH" written on the back of the dress in red. This fashion choice led to her trending worldwide with everyone wondering what their true feelings about her message were.  
Junior Isa Rojas was aware of the controversy the dress would cause right when she saw AOC wear it.  
"It was very bold of her to wear a dress that says 'TAX THE RICH' when AOC herself is rich," said Rojas. "Many people could view the dress as hypocritical since it's on her." I like AOC but I feel as though her purpose was to get the people talking." 
Since a Met Gala ticket costs $30,000, people were quick to question her choice of attire, but many people came to her defense feeling as though her message should still be taken seriously.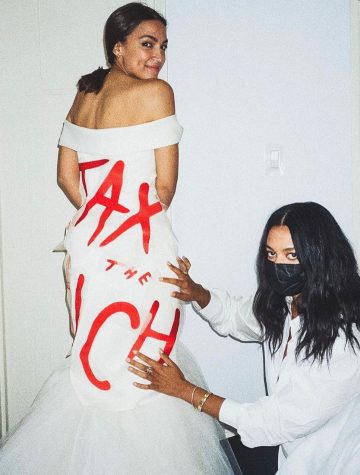 AOC @hellojunlu on Instagram 
The Met Gala never disappoints with celebrity surprises, but this year might've been one of the most talked about galas in recent memory. Even people who don't keep up with pop culture knew what Kim Kardashian and AOC wore. If the goal of the outfits worn to the gala was forcing the public to pay attention, this was certainly accomplished.