Celebrating Earth Day
Earth Day is commemorated on April 22, and it serves as a timely reminder of the importance of protecting our planet for the future. The first Earth Day was held 51 years ago in 1970 in the midst of a social revolution that finally brought the protection of the environment into the national discussion. 
We've come a long way in our awareness of environmental issues and our willingness and ability to act. However, there is still a long way to go if we want to ensure that our planet is safe. Today, the fight for a clean environment continues with increasing urgency, as the ravages of climate change become more and more apparent every day.  
Young climate activists from around the world such as Greta Thunberg, Xiuhtezcatl Martinez and Vic Barrett have been calling attention to the growing conflict, showing that younger people care about their environment and want to make positive change.  
Those activists aren't the only ones concerned about the climate crisis. Iona college students like senior Willow Lopez-Silvers are also keeping aware of the issues.  
"It's something that we've been hearing about for a long time, but I think because it's not personally affecting people, they don't want to do anything about it," Lopez-Silvers said. "I think appropriate change is needed and I'm remaining hopefully optimistic."  
Despite evidence of climate change, there are many who believe that we are not doing harm to the planet. Activists and many others observing the research, like sophomore Myles Chiarello, believe that the crisis deserves more attention.  
"The environment is definitely a big issue and I think people should turn their attention to it," said Chiarello. 
Our planet is an amazing place, but it needs our help to thrive! That's why Earth Day is the perfect opportunity to learn about important ideas, such as going green and reducing, reusing and recycling.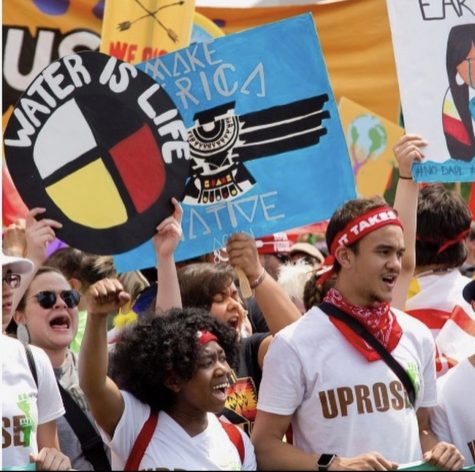 Here at Iona, there are student– run clubs and organizations that focus on environmental issues and sustainability, including IC Green and the SGA's Green Initiatives Committee. This year the Office of Student Development has created a list of programs taking place in honor of Earth Day too, so keep an eye out for these events.  
Earth Day should motivate us to keep fighting against climate change and encourage us to partake in small acts of kindness – especially for our environment. If you still have to wonder why Earth Day is important watch your friends play ball in the gym, go for a walk, or simply just stand outside and fill your lungs with fresh air until they're fit to burst – these are the things climate activists are fighting to preserve.