Br. Gunn gives presentation on Edmund Rice pedagogy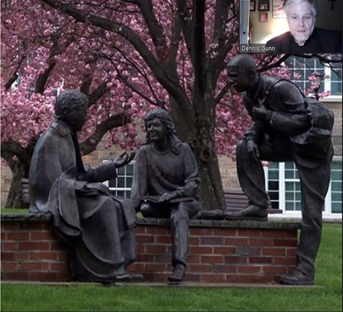 As part of Iona College's 2021 Heritage Week, held on April 15, Br. Dennis Gunn gave a virtual presentation on teaching and learning the Blessed Edmund Rice Tradition. Many students and faculty from the Education Department attended the event, hoping to learn how to incorporate the practices of Edmund Rice into their own careers.  
The event began with a PowerPoint presentation given by Br. Gunn, offering a brief overview of Edmund Rice's life and a detailed explanation of his philosophy towards teaching. Br. Gunn identified the three main elements of the Edmund Rice pedagogy: relational, incarnational, and practical. 
The relational aspect of teaching means that  teachers must foster a strong relationship with their students and have a desire to help them achieve success. Br. Gunn referenced the statue of Edmund Rice talking to his students located in the Campus Quad as an example of these relationships. He is engaged with his students on a personal level rather than considering himself superior. 
The incarnational aspect of the Edmund Rice pedagogy means that teaching is a humanizing and authentic practice. Br. Gunn emphasized that there is no part of a student's life that is not part of a teacher's concern. Edmund Rice prioritized social and emotional learning for his students. 
Lastly, the practical aspect means that education is in the service of individuals, society and the common good. Service is not simply an add-on to the Edmund Rice pedagogy, but rather a vital aspect of it. Br. Gunn discussed the ways in which Edmund Rice served others, including starting a cobbler shop to make sure his students could make their own shoes and praying with criminals before they were hanged.  Also mentioning the ways in which Iona has heeded the call for service-learning, Br. Gunn showed how the students have remained engaged in service even during the pandemic. 
After Br. Gunn's presentation, some students and faculty had the opportunity to ask him questions and learn more from his experiences. He spoke about his love for helping young teachers and how he reminds them that it can take time before they see their work start to pay off. Even when teachers do not see immediate growth in students, little moments will still remind them of their influence as time goes on. In saying this, Br. Gunn referenced a quote from Edmund Rice that is meaningful to him: "Take courage, the good seed will grow up in the children's hearts later on." 
When asked how he remains positive during challenging days, Br. Gunn told students to think of their ultimate motivation for becoming a teacher. 
"The joy of being with students in the classroom, the joy of changing lives, the joy of touching minds and hearts is an incomparable joy," Br. Gunn said. "Remember why you became a teacher in the first place and hang on to that." 
At the end of the event, a collection of students from Dr. Small's education classes shared their appreciation for Br. Gunn, describing just how much they love having him as a professor. They also congratulated him on receiving the Br. Arthur A. Loftus Award on April 14, honoring his many years of service as a Christian Brother.  
Students and faculty alike left the presentation feeling inspired and eager to incorporate the Edmund Rice pedagogy and the advice of Br. Gunn in their own lives.