The best TikTok recipes
TikTok has proven to be a social media app for all. From dance videos to makeup and cooking tutorials – if you're looking for it, TikTok has it. A few weeks ago, a tomato and feta pasta recipe took the world by storm and now a fresh fruit treat called "nature's cereal" is the new it-meal. From appetizers to desserts andbreakfast to dinner, it's not hard to find thousands of delicious recipes on the app. Here are some TikTok recipes that are sure to change your life.  
Baked Feta Pasta 
For this recipe, all you need are a few things: your pasta of choice, grape or cherry tomatoes, Feta cheese (or Boursin or mozzarella – it all depends on your preference) and olive oil. To make this dish, all you need to do is put your feta cheese and tomatoes in a cooking dish, drizzle it with olive oil, bake it until the cheese is melted and the tomatoes are cooked and then add your cooked pasta to the dish. If you feel like spicing things up a bit, you can add your choices of protein to the meal and your preferred seasonings.  
Nature's Cereal 
This very simple recipe has been endorsed by celebrities all ove
r TikTok, including Lizzo. "Nature's Cereal" combines blueberries, blackberries and pomegranate seeds as a replacement for cereal in a bowl with coconut water and ice. It may not seem like much at first but the hashtag on TikTok shows that a lot of people actually like it. If blueberries, blackberries or pomegranat
e seeds aren't your thing, feel free to add other fruits like strawberries, mango or pineapple.  
Peanut Butter and Jelly Baked Oats 
This single-serve recipe calls for one tablespoon of peanut butter, one tablespoon of maple syrup, two tablespoons of applesauce, 1/3 cup of almond milk, 1/2 teaspoon of vanilla extract, 1/2 cup of oats, one teaspoon of baking powder, a pinch of salt and 1/2 tablespoon of jelly. Mix all these ingredients together and place it in a baking dish in the oven at 400 degrees for 20 minutes and you've got a delicious breakfast.  
Gigi Hadid's Spicy Vodka Pasta 
This recipe first originated on Gigi Hadid's Instagram but was made viral on TikTok. The recipe serves two, so keep that in mind if you're making it just for yourself or for your family. For this elaborate recipe, you'll need: your choice of pasta, 1/4 cup olive oil, one diced garlic clove, 1/4 shallot, 1/4 cup tomato paste, one tablespoon vodka, 1/2 cup heavy cream and one teaspoon red pepper flakes. Cook the garlic and shallots in the olive oil until softened, add the tomato paste, heavy cream and red pepper flakes and stir until combined. Add your pasta to the mixture and top with parmesan cheese and basil.  
Whipped Coffee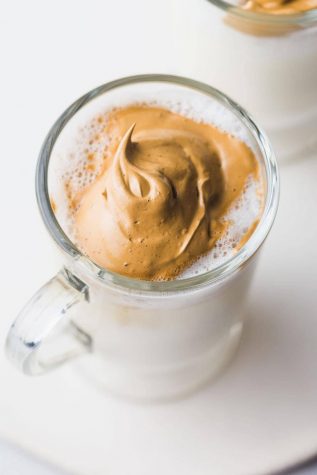 All you need for this recipe is white or brown sugar, instant coffee, hot water and milk. To make this drink, whip the sugar, coffee and hot water together until a stiff peak forms. Add coffee and ice to a cup and top the beverage off with your whipped coffee. Feel free to spice up this drink with cinnamon, nutmeg or even pumpkin spice seasoning! 
TikTok's hashtags have proven to be a hub filled with trendy and delicious recipes.  If you're ready to try a new recipe, all you have to do is follow these ideas and get in the kitchen.