Diversity speaker encourages voting and acceptance
The Office of Student Development hosted author, filmmaker and activist Paola Mendoza virtually on Oct. 6. Students attending had the opportunity to listen to Mendoza speak about topics like the importance of voting, diversity and acceptance. 
Mendoza is someone to be admired, for graduate student Kate Tagliareni. . 
"I really enjoyed hearing about all the obstacles Paola has [overcome] and how she has contributed so much to making a change," Tagliareni said. "Hearing her perspective gave me confidence that I am able to achieve much more than I can ever dream of. It was a pleasure hearing from such a powerful speaker and being able to have someone to serve as a positive figure in a time of unease." 
This event was spearheaded by the former Vice President of Student Life Denise Hopkins. It was originally set to take place in the spring of 2019 as part of the college's 50 Years of Women celebration. Due to COVID-19, the event was postponed  and changed to a virtual event to fit Mendoza's wishes. After Hopkins' leave, Dr. Melissa Aponte, the director of student life, took the reins to ensure that the event happened.  
For Aponte, the importance of having speakers like Mendoza is not quantifiable. 
"Paola Mendoza is a strong woman who had shown up for the issues and causes important to her," Aponte said in an email. "She also exemplifies the [importance] of engagement with the community. As an institution that values social justice and community involvement, we felt she was a great example of how one puts their values into action." 
Aponte also emphasized how critical it is for students to be educated on these issues during this time. 
"Additionally, because we're in a presidential election year, we wanted students to be educated about the importance of civic involvement and the political process.," Aponte said."Finally, Paola is an immigrant of South American origin. We felt that her background and story could resonate with many of our own students and also help others learn from a worldview that may be different from their own." 
A statement from Mendoza resonated with Aponte.  
"While many of us take up a cause because we are originally sparked by anger or rage, it is important to continue the fight from a place of love. Love is sustainable.," Mendoza said. "Anger is exhausting." 
During the presentation, Mendoza additionally offered advice for women of Latinx heritage.  
"Be proud of your culture, your heritage, and your community," Mendoza said. "Find strength in the traditions and customs in which you were raised and use those to guide you.  Find examples of other Latinx women and read their stories and if possible, get to know them!" 
Dr. Aponte would also like to credit the event to Hopkins and other partners in the Division of Student Life as well as partners in Institutional Advancement. It was sponsored by the Division of Student Life and the Charles F. O'Donnell '60 Lecture Series. 
About the Writer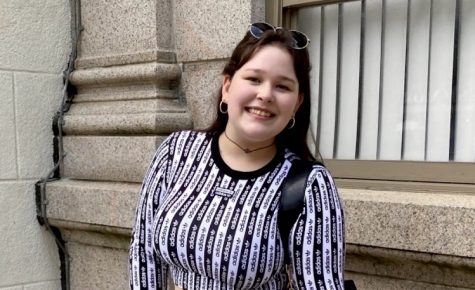 Ciara Serpa, Advertising Manager
Contact email: [email protected]

I'm Ciara Serpa! I'm a senior double majoring in finance and information systems and I'm the advertising...