Faith Preziosi talks season and long term goals
The Ionian had the opportunity to interview, via e-mail, sophomore and soccer player Faith Preziosi. Preziosi talks about her play, her time at Iona and her decision-making when coming to Iona.
1: What does it mean to you to have achieved Student-Athlete of the Week?
I am proud to earn the title of student-athlete of the week. It means a lot to me for all of the time and effort I put into training. It would not be possible without my teammates and coaches.
2: How did you get into soccer?
Soccer was the first sport that took me at the age of 5. I also tried cheerleading but they conflicted with each other so I stuck with soccer.
3: Besides winning the MAAC Championshipswhat are some goals you hope to achieve with your team? Individually?
Continuing to build the soccer program to be the best it can be for Iona.
4: What would it mean to you to be top goal scorer of the team? Of the league?
It would be an honor to be top goal-scorer of the team and of the league, it would mean that I am doing my job as a forward.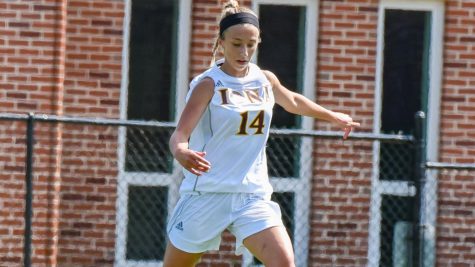 5: When results such as the 3-1 loss to Cornell happen, where it's a close game at the half followed by a defeat, what do you do to keep your perseverance for the next match?
I look at it as we need to get back to work and get back at it for the next game because all games are winnable as long as you work to your fullest.
6: What do you tell yourself when halftime arrives, no matter the score?
Keep working hard no matter winning or losing; each game matters at the end of the day so go out hard strong and fighting.
7:  Throughout your career here with the Gaels, what do you hope to leave behind as a legacy?
Winning a championship and breaking records.
8: What attracted you to Iona?
How close it was to home, college size and hope to help the soccer program grow.
9: What do you like most about it now that you're here?
Friendships I have made and the support from everyone at the college.
10: What has been the biggest challenge you've faced in soccer?
Losing winnable games, and feeling like I have not given it my all.
11: What advice would you give to anyone facing a major challenge?
Do the best you can and never give up.