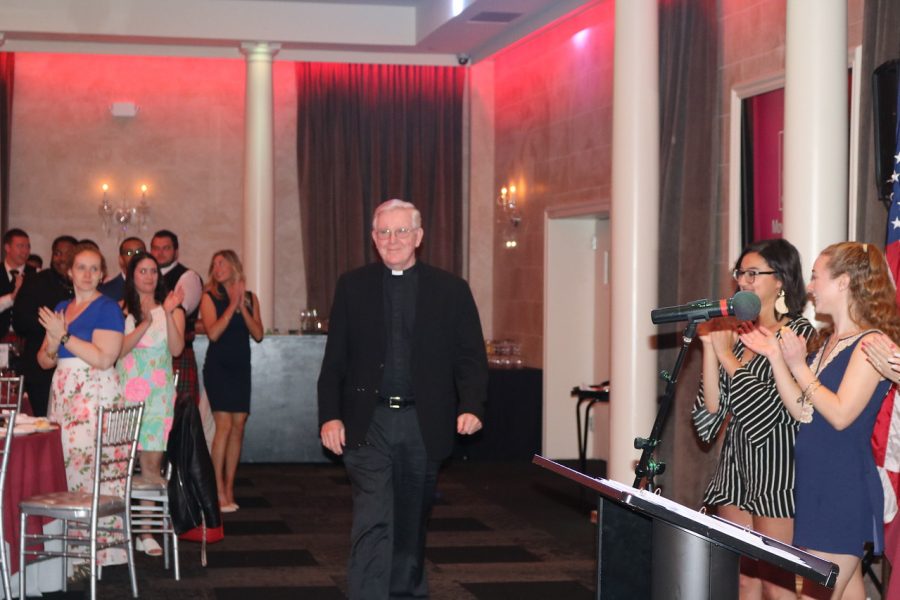 After 33 years working at Iona, Br. J. Kevin Devlin is, in his own words, "retiring from administration" to continue his goal of providing for all the needs of the students while they are at Iona.
Devlin first came to Iona as a faculty member in 1986, when the footprint of the college and the number of faculty it employed was smaller.
"One of the biggest changes, the most obvious changes since 1986 and 1961 when I was here and graduated, has certainly been the physical plant [sic]," Devlin said. "The physical plant has grown and it has just been so beautiful."
The number of majors and courses the college offers has also expanded.
"The faculty has kept up and advanced with the curriculum so that the biggest changes I have seen are the multiplicity of the majors and the depth of the courses faculty is teaching and the high level of scholarship which has been maintained since I came here," he said.
Devlin said that although the physical attributes of the school have changed, the quality of students has not.
"The students are just wonderful," he said. "They really are. They take the idea they are going to move the world and fight the good fight. When [I] first heard it I thought 'Fight the good fight? What are they talking about fighting? It's the good fight against drugs, racism, sexism, etc."
Devlin joined the Christian Brothers in 1957 at the age of 17 and attended Iona as a Christian Brother during his junior and senior years of college, earing degrees in history and political science.
"It was not unusual at that time for people to be making life choices at a young age," Devlin said. "A number of my friends were graduating high school at that time and getting married."
74 other young men joined the Christian Brothers on the day Devlin did. Of that 74, Devlin said that about 10 had graduated college or were in college. The rest were his age.
As a student, Devlin lived in Rice Hall, then called Edmund Hall, with other Christian Brothers.
"There were only 100 of us, so you would see a parade of brothers coming down the road in the morning and then going into the classrooms," Devlin said. "It was not separate, your academic and spiritual life."
Before coming to Iona as a faculty member, Devlin held positions in various elementary and high schools, including being headmaster at Iona Grammar School and teaching at Iona Preparatory School. Devlin then worked in Admissions at Iona for 10 years.
"I really loved working in Admissions," Devlin said. "But I saw that a number of students were coming to Iona and for a number of them they were finding the adjustment kind of difficult."
Devlin went to the president at the time and created what would come to be known as the Office of Student Success, where he is now retiring as the director. But Devlin has no plans of leaving Iona.
"I would hope to find a little cubby some place on campus and I can be an academic coach," Devlin said. "So I can help students as they are adjusting from high school to college, because sometimes it becomes very difficult."
Devlin said that some high schools do not require students to write term papers, something most students must do within their first semester at college. He hopes to be able to both teach incoming students to learn how to do well in college as well as directing them to other services on campus, such as the Rudin Center and the library.
Devlin hopes this move will allow him to better tend to Iona students' needs as a whole, which is why he will be continuing the food bank he created for students.
"It's all in the tradition of what Edmund Rice did when he was starting," Devlin said.
He explained that people leave food, coats and other necessities on his porch often. He usually brings them all to organizations in the area like Abraham House and Hope Community Center, but he keeps coats he thinks would be good for college students.
"I give them a coat, just because you can," Devlin said. "You can't study if you're hungry. You can't study if you don't have your text books, you can't study if you're cold. So trying to develop the entire person is what Edmund Rice was all about and I think all us Christian Brothers try to do that."