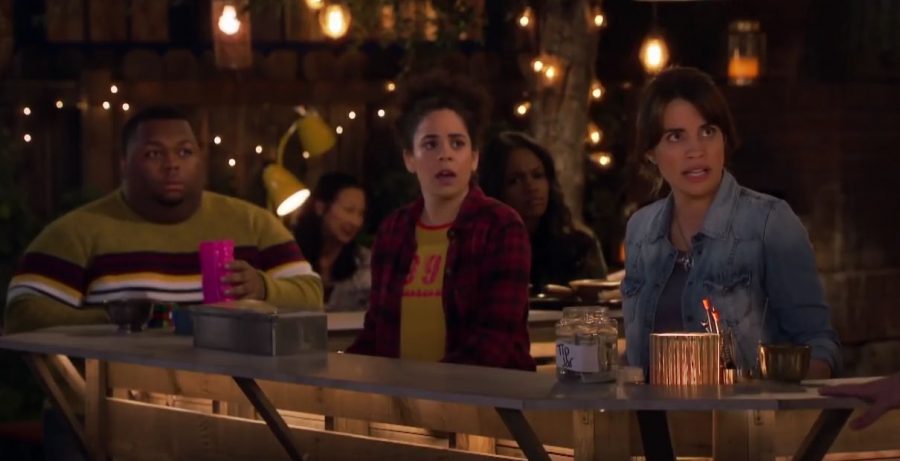 OFFICIAL "ABBY'S" TRAILER
"Cheers," "It's Always Sunny in Philadelphia" and "Sullivan & Son" are all great comedies that have taken place in bars. "Abby's," a new comedy airing on NBC, hopes to join these ranks with funny jokes and lots of booze. "Abby's" premiered on March 28.
The show stars an endearing Natalie Morales as Abby, an ex-Marine who turned her backyard into a fully operational bar. The backyard bar is a very successful venture, equipped with a great aesthetic and a colorful cast of regulars. However, the atmosphere of Abby's is threatened when a new landlord shows up after inheriting the house from his recently departed great-aunt.
Obviously, a profitable bar in a residential home without a liquor license is a red flag for any landlord, and Bill demands Abby shut it down. The hard-headed Abby refuses to give into any of Bill's suggested compromises and declares that Abby's is closing. By episode's end, Abby's loyal band of patrons convinces her to let go of her ego, compromise with Bill and keep the bar open.
The fact that I could sum up the entirety of the pilot in a singular, three-sentence paragraph should tell you everything you need to know about "Abby's." The show has a cute premise, but it is incredibly basic and undeniably boring.
One undeniable issue was the small set. The entirety of the episode took place within the vicinity of the backyard bar. Abby and Rosie, the bar-back, are behind the bar for most of the episode and the characters Fred, Beth and James just sat at the bar.
The stagnant characters and confined space did not lend much action to the episode. Although the action was scarce, if the dialogue was funny then maybe the show would seem better. Unfortunately, the script was also not that exciting. The jokes did not seem unique to this particular sitcom and came off as generic and recycled.
The cast is filled with funny actors including Neil Flynn from "The Middle" and Jessica Chaffin, best known as Coco from "Zoey 101." The characters they are playing, however, are standard archetypes – the bitter old guy, the boozy mother, the uptight landlord and so forth. The actors cannot rise above the mundane material. It's a shame that "Abby's" has a lot of nice pieces but cannot seem to put the puzzle together.
For this show to succeed, "Abby's" has to leave Abby's. The concept of Abby starting her own business and dealing with a kooky, yet tight-knit group of friends is a nice home base. However, the characters and the writing are just not strong enough to be supported by a simple, backyard setting. It needs to put its characters in different situations because the cast chatting around a bar is going to get old.
"Abby's" airs Thursdays at 8:30 p.m. on NBC.