'Mamma Mia': Perfect musical for Iona Players
"Mamma Mia!" –  the musical that weaves a few threads of romantic comedy around a broken soundtrack of old ABBA tunes – is a truly peculiar idea, yet also a guilty pleasure. Its arrival to Iona College in a time of unseen, mid-semester stress was a delight. The show played in the Murphy Auditorium on Feb. 28, March 1 and March 2.
Musicals can be inconceivable and hard to describe in part to their almost magical nature. Plus, you need someone to translate ideas, emotions and messages on stage. The Iona College Players did a fantastic job as they performed. Their rendition of "Mamma Mia!" was just wonderful. Each scene, song, and dance routine knocks whatever came before out of mind, so you spend two hours completely hooked.
"Mamma Mia!" follows the story of Sophie (played by freshman Katie Feeney) as she discovers her mother's old diary and finds entries that describe intimate dates with three men: Sam Carmichael (freshman Brendan Bohan), Bill Austin (junior Thomas Hoehmann) and Harry Bright (senior Bear Winterroll). Sophie believes one of these men to be her father and sends each an invitation to her wedding without letting her mother, Donna (junior Mary Kate Hall), know.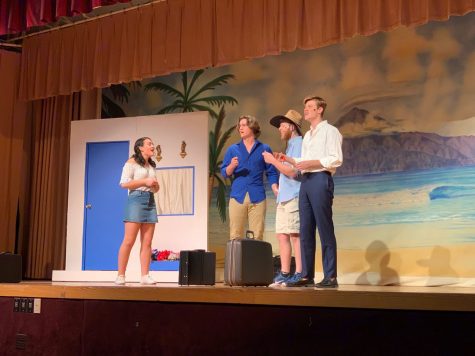 A musical without a message is rare these days, but "Mamma Mia!" does not really have one. It has a simple story that does not really focus too much on anything. Its main goal is to make you laugh and smile. It neither patronizes the audience nor confuses them.
Unlike so many musicals, it also makes sure that you are having a good time. There is always drama to unpack but never too much, as the play is also filled with comedy. The Iona College Players did a great job with that. A few side characters come to mind such as Sky (freshman Jack Ruscetta), Sophie's fiance, and Pepper (junior Eddie Rose) the love-craving bartender. Tanya (junior Kate Pearce) and Rosie (senior Kelly Farrell) are brilliant as Donna's best friends and former bandmates.
The star of the show was without a doubt Mary Kate Hall. She stole the show with an amazing performance as Donna. Her magnificent voice filled the room as she sang some of the most notable songs from the play.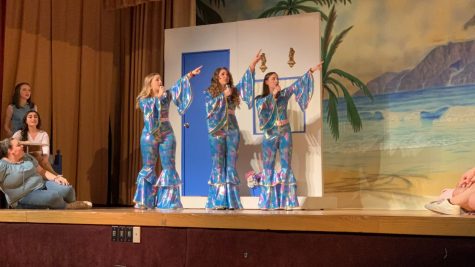 Not everyone feels as though they can be happy all the time, and the musical executes this brilliantly. Donna is not afraid to show off her emotions and refuses to fall into them as her daughter does the opposite. The most gut-punching scene is when Donna confronts her fear of losing her daughter as they get ready for the wedding and she sings the song "Slipping Through my Fingers."
It takes massive heart, sizzling wit and lovable songs that stick with you like superglue to make a musical memorable. A lot of work goes into a performance like "Mamma Mia!" and it is not only the actors, but the people working behind the scenes as well. "Mamma Mia!" might be a weird one, but it was the best choice for the Players.