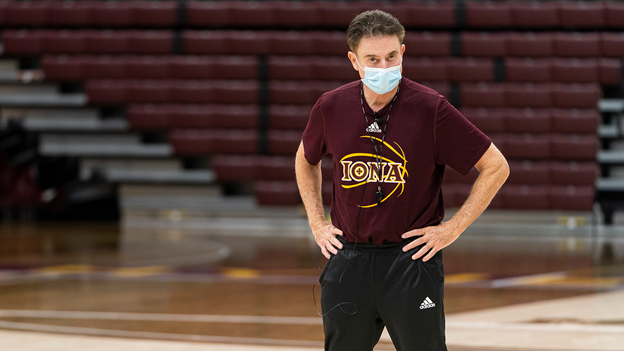 Photo courtesy of icgaels.com
This year Rick Pitino entered March Madness with his fifth different team. He is one of only three college hoops coaches to ever do so, cementing his name among the best to ever do it and fortifying his resume for the National Collegiate Basketball Hall of Fame.  
No one could have predicted such a story-book ending to a season that even an optimist would have considered "lost." The Gaels trudged through two COVID-19 shutdowns, one that stretched from December to February, and another that ended their season five games short, forcing them to enter the Metro Atlantic Athletic Conference tournament having not played in 17 days.  
For maybe the first time in his coaching career, Pitino was toe-to-toe with an opponent that he had no game film of and no winning game plan against.  
Yet Pitino helped rally his men over these major obstacles, keeping their heads up and eyes open towards the end goal of winning yet another conference championship. The storied coach did not come to Iona to surrender his winning mentality.  
Pitino also kept things in perspective this season. In a press conference following the championship win over Fairfield, he shared the difficulties of the season but emphasized how the team never complained. Pitino reaffirmed daily that the realities of the pandemic were far worse and far more real for many others.  
With the wisdom that is acquired over decades of coaching, Pitino preached to his players to work hard and worry about only what they could control.  
This approach culminated into Iona's best stretch of basketball at the end of the year, especially their concluding series against Monmouth which saw them put up 179 points over two games against one of the MAAC's premier teams.  
Pitino's East Side accent and uptown swagger brings an attitude to the Gaels that an established mid-major needs to ultimately make it past the Round of 64. The notability of the Pitino name is a great addition to Iona athletics, but this season demonstrated that the hire was not a publicity stunt. Instead, it stood as a great leap forward for a program that year after year finds itself on the precipice of gaining national attention, and not because of the name of their head coach, but because of their play.  
The coach's fiery demeanor is an example of the spark that he brings to the hardwood. Pitino's press conferences capture his candid nature, when he would be all-too comfortable highlighting a player's bad shot selection to the media.   
This shows the honest relationship he has with his players, and why they fought for him in the trenches throughout such a turbulent season.  
Who can argue with the results?   
After over 40 years of coaching in countless positions in leagues at every level, coach Rick Pitino made a statement in his first campaign in New Rochelle.  
This season marked his first collegiate coaching job following the various scandals at Louisville which resulted in his termination, and the vacating of his 2013 national title. It was a devastating blow to the college basketball world, but it is obvious that Pitino has come to terms with his past, and is only looking forward to his next chapter here at Iona.  
Yes, the next chapter looks very bright.  
Pitino's recruiting expertise gives Iona something they have never had before. The program now offers the chance to play under a legendary player's coach to top recruits across the country. The addition of Trey James, the all-leader in blocks in the state of Kentucky, to the 2021 recruiting class fully demonstrated the "Pitino effect," with many other impressive players sure to follow.